Just two months before the rest of Ottawa got its hundred year flood, W.E. Gowling Public School rocked to a once-in-fifty-years party.
Staff and students at Gowling are still floating on the memories of a fabulous fiftieth anniversary celebration the week of June 3-8. Hundreds of graduates and former teachers came back to see the memorabilia displays, join in the Saturday community fun fair, and dance the last night away.
Principal Bernie Finnerty admits it would be impossible to name and thank everyone who contributed to the success of the week. From the Scouts who organized Saturday's barbecue to the Fisher Park carpenter who crafted an elegant wood time capsule, there were hundreds of helping hands, all ably co-ordinated by the anniversary committee under Olwen Green.
For both Finnerty and Greg Clunis, retiring Chair of the Parents' Association, the best moments were at the June 6 assembly when students from each class contributed a treasure for the time capsule which is to be opened in 2021, W.E. Gowling's 75th year. Current OBE trustee Bill Gowling was on hand to reminisce about his grandfather, for whom the school is named.
"I just got a sense of the tremendous long-term community ownership of this school," says Clunis. "There were good news stories right back to before I was born. I realized the torch really gets passed along from family to family. All those kids and their time capsule ensure that it will carry on long after we're gone."
Many of the children wrote letters to their future selves, to be opened in 25 years.
"Celebrating 50 years of history was in itself very rewarding, but almost as big a dimension, certainly for the children, was a look of optimism towards the future."
---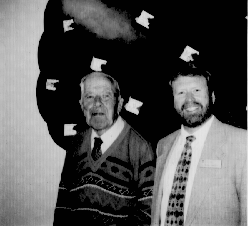 Gowling principal Bernie Finnerty (right) poses with former principal Harley Cummings (1950-1955).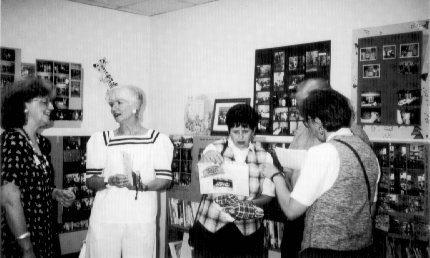 "You haven't aged a bit!" they agreed as they surveyed the photos in the memorabilia room at W.E. Gowling's 50th anniversary party.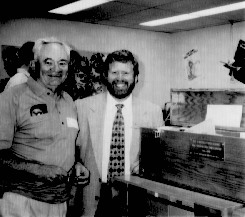 Former principal Joe Dolough (1975-1983) stands beside the time capsule that Principal Bernie Finnerty (right) helped students assemble for re-opening in the year 2021.