Thanks to a generous $8000 pledge from Merivale Orange Lodge Number 85, Carlington Community and Health Services can look forward to a mortgage-free future at 900 Merivale, the former school which was renovated for the health centre in 1993.
Allen Helmer, a former president of the Carlington Community Resource Centre (as it was called then), is also Deputy Master of the local Orange Lodge, an organization with its roots in Irish and Scottish Protestant pride. Member Lodges across Canada adopt different charitable causes, and when the Merivale Lodge freed up some money by selling its building to the Optimists, Helmer suggested the Carlington health centre.
"You can give to a lot of causes and feel like it's a drop in the bucket. We came and had a look and the building is so bright and cheerful, not like some other places where there are social services," said Lodge Secretary Ray Reside.
"We were impressed and we wanted to be part of this first class operation." CCHS Executive Director Michael Birmingham is deeply grateful for the $2000 a year pledge, which will wipe out the balance remaining on the Centre's mortgage. "We've been using other dollars that came in through rentals, inching away. Now we can use those dollars to maintain services. There are $100,000 in cuts that have affected our parent-child and family violence programs. We are very dependent on grants and fundraising to continue our work."
A plaque near one of the waiting rooms at the Centre thanks the Orange Lodge for their donation, the first $2000 of which was presented at the Centre's annual general meeting in June. Since then, the Lodge members have raised further funds with a barbecue at Robinson's Your Independent Grocer on Merivale, and plan more events in the Spring.
"It was a generous contribution to help us wrap up the capital project," says Greg Clunis, the current president of the Centre's board. "It lifted an anxiety that the board has been carrying. In these times, I think we'll be seeing many new alliances and collaborations drawing people together for the greater community good."
---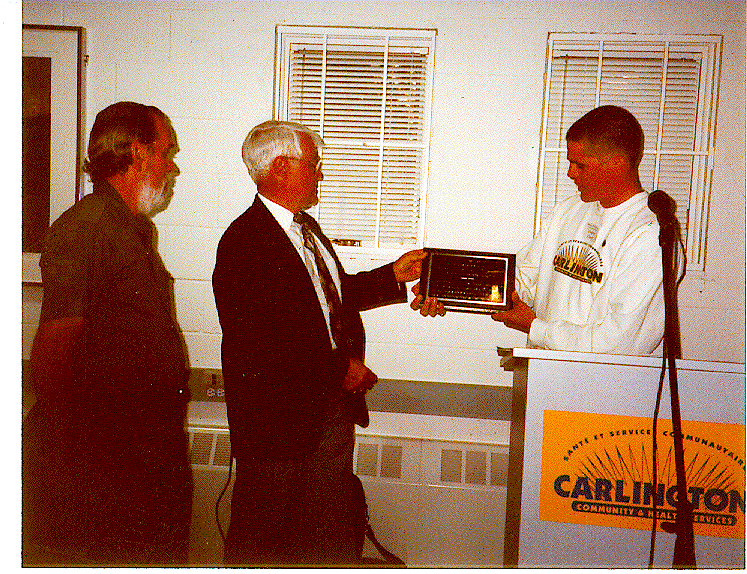 Representatives of the Loyal Orange Lodge were on hand to see the plaque presented by CCHS Board President Greg Clunis (right) which will commemorate the Orange Lodge's gift of $8000 towards the health centre building. Allen Helmer (left), Deputy Master of the local Orange Lodge and former President of the health centre's board, looks on.