Divertimento Orchestra is now looking for new members. The orchestra is going into its fifteenth season and is rehearsing at St Thomas-d'Aquin Church, 1244 Kilborn Avenue in Ottawa. Conducted by Gordon Slater, the Dominion Carillonneur, the group averages fifty-five musicians and gives concerts in the winter and spring.
The orchestra rehearses from September to May and is available for fund raising concerts. The repertoire for the coming year includes Beethoven's Symphony No. 1, Dvorak's Symphony No. 6, Copland's Four Dance episodes from Rodeo, Bach's Brandenburg Concerto No. 3 and Schuman Symphony No. 4. At this time there are openings for french horn and string players, especially violin and viola.
Opportunities are available for playing in smaller ensembles. These include instrumental, choral, and Broadway projects. For further information call Elsa Slater at 823-1200.
---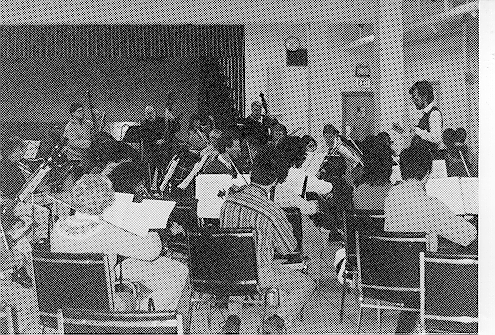 The Divertimento Orchestra at rehearsal.