This is only an excerpt from the complete article.
The Annual St. Elizabeth School BBQ and Science Fair held in June was the best and biggest yet. The children and parents enjoyed the wonderful activities. The pony rides and petting zoo were a big hit with the little ones. Many thanks to all hard working members of the PAC and the dedicated volunteers who helped sell tickets, serve food, organize games and make the event such a great success.
The first Parents Advisory meeting of the year, as well annual elections, was held on September 16th. The new members of the new executive are:

Chair                           Emily Rosza
Vice Chair                      Sharon Fyke
Treasurer                       Betts Tennant
Secretary                       Linda Potvin
Teacher Rep.                    Charlotte McNulty
Members-AT-Large                Mrs. Nancy Hempinstall
                                Mrs. Pat Gomes
Board Parent Advisory 
Committee (BPAC) Rep.           Amy Fiawornu
BPAC Alternate                  Mrs. Sharon Fyke

Many thanks to last years dedicated and hardworking Executive. Parents and members of the community at large are welcome at the meetings held every month. The next meeting will be held on October 2 at 7.00 p.m.
Mr Gilmore has the children out at noon hours practising for the annual cross country meet at Mooney's Bay. Good luck to all the students participating!
Attention, Internet Users: the URL for St. Elizabeth School is: http://www.occdsb.on.ca/~sel/.[New URL --webmaster].
---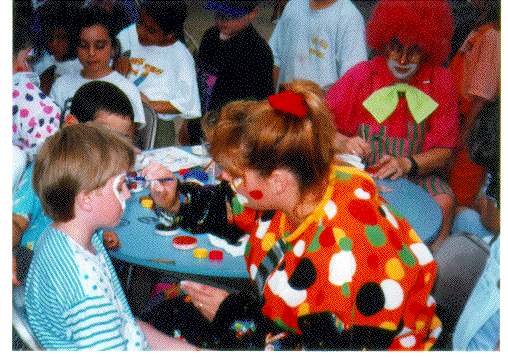 Clowns painted faces of the happy throng of children at the St. Elizabeth Barbecue and Science Fair in June. The annual bash featured pony-rides, games and fun, as well as exhibits from budding young Einsteins. Photo by S. McLoughlin.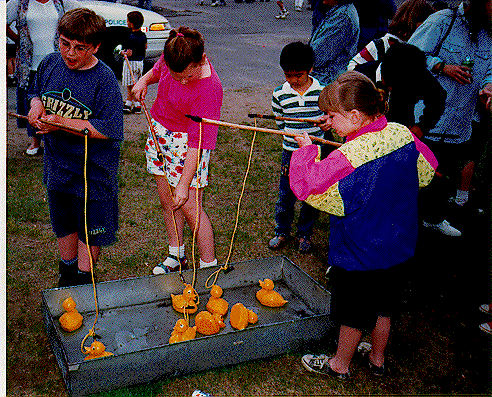 Children enjoyed the fowl pursuit of duck-catching at St.Elizabeth's Annual Barbecue in June. Photo by S. McLoughlin.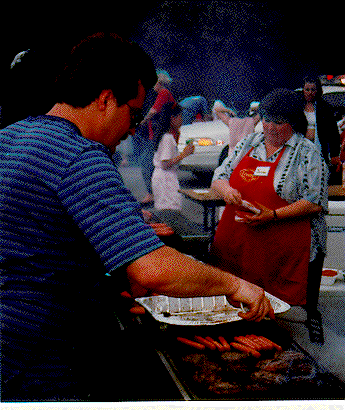 Hot dogs and hamburgs went like...er, hotcakes at the St. Elizabeth Barbecue. Thanks to the volunteer parents, nobody went away hungry. Photo by S. McLoughlin.