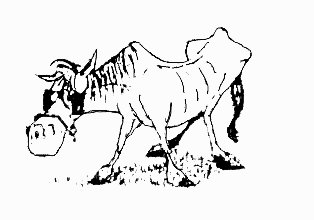 Well, we've had the year of the ice storm, this year we had the summer of the gravel roads. I haven't seen so many gravel roads since I was child on the farm over 50 years ago. Now, I wouldn't mind if they dug up the street once and were done with it. Not in Ottawa I say. They dug it up once for new sewers and back-filled; then they dug it up for water pipes and back-filled; then they dug it to add the catch basins and back-filled; then they dug it up to connect the water to the houses and back-filled; then they dug up what they haven't dug up yet and back-filled. Now I know the city and the region have a systematic plan to replace old sewers and water mains, but it seems to be at the expense of roads that really needs a new surface. A good example is Richmond Road through Westboro.
---
To determine your cost of living, take your income and add 10%.
---
Remember the speed hill next to Westgate on the Merivale Road extension I wrote about? Someone came up with an answer to why it was placed there. Well, it seems it was placed there so people will be safer breaking the law. It seems a lot of people who visit or work at the Royal Ottawa Hospital don't like to pay for parking at the RO and so they park at Westgate and j-walk across the street to the RO. Now these people could walk 150 feet or so to a traffic light and cross the street, but I assume a group complained about the speeding traffic and got the speed hill that has damaged an innumerable number of front ends and shocks.
---
Once a task has begun, never leave it until it's done, though the task be great or small, do it well or not at all.
---
Another update, remember when I wrote wondering what would happen if I stopped on the yellow traffic light instead of running it (even stretching the envelope into the red light zone)? Well I didn't get rear-ended, but a friend did, by a parking control car (you know the ones that are illegally parked so they can ticket other parked cars).
Now you would think that if you or I ran into another car we would be charged and lose a few points on our license? Apparently not with parking control because the judge let him off. This friend took his son to the court to show him how the justice system worked, since he had to take time from work to be a witness to the traffic accident (being the one who was hit). He said when the judge dismissed the charges on the parking control guy; he could see the look on his son's face as if to say, "Justice really is blind".