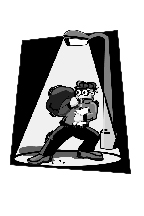 Here to Support the Community
Volunteers are at the Carlington Community Police Centre in the Westgate Shopping Centre to assist you on weekdays, from 10 a.m. to 4 p.m. Drop in at the Centre or contact us by telephone at 236-1222 (extension 5814 or 5815) or extension 5816 for the Senior Constable.
Safety In Your Home
The summer holidays are over and everyone's back into the Fall routine. Remember that burglars very often depend on your routine to operate. There are a number of precautions you can take that will reduce the opportunities that a burglar is looking for. You may also contact us to make arrangements for a security evaluation of your home. Volunteers who have been trained in conducting security evaluations will assist you in checking your home to determine possible entry points and any weaknesses they may have.
A Word of Caution
There have been reports of impersonators going door-to-door offering security evaluations of homes. The Carlington Community Police Centre will send volunteers to your home on request only. Furthermore, the two volunteers will have their Ottawa-Carleton Regional Police Volunteer photo-identification card. Never let anyone enter your home without asking them for proper identification — if they fail to do so, refuse to let them in and report it to the police immediately.