As you may recall, 26 April, 1986, was the day the Chernobyl Nuclear Power Plant exploded, contaminating parts of Belarus, the Ukraine and Russia. Belarus was hardest hit, receiving 70% of the radioactive fallout.
The charitable organization "The Canadian Relief Fund for Chernobyl Victims in Belarus" was formed in 1989, and focused on the most vulnerable victims: the children. Sending children out of the country gives their young bodies relief from the radiation, and a chance to build their immune systems.
In February of this year, my family decided to sponsor a Belarusian child for six weeks of the summer. It was a hectic time raising funds to pay for the child's airfare, insurance and visa, but through chocolate sales and donations we raised the money needed by the end of May.
On 22 June, Dzmitry Koslov, or Dima as he preferred, arrived. He was rather small for his 8 ½ years, with short dark hair, big brown eyes, and a sunny toothy smile. Although he was exhausted, having just travelled over 24 hours, he was adamant that he present us with gifts from his family. It was a humbling experience to be on the receiving end, knowing that probably one half of a month's salary was spent in the purchase of these gifts. Still, we graciously accepted them and he beamed with pride and satisfaction.
Dima was charming, happy, and a joy to be with, with a remarkable sense of humour for one so young. He did not speak or understand English, nor we Russian, but that did not deter him from initiating many exuberant conversations. Thankfully, we had access to an interpreter and a Russian/English Picture Dictionary. We also became quite expert at charades.
My worries before his arrival became rather insignificant when I realized the enormity of the decision his parents made in sending him half way around the world to be looked after by strangers. Their apprehension and fear would have been outweighed by their determination to assure him better health. We vowed to send him home in one piece!
Dima was crazy about fruit especially grapes and bananas, and he always had a big helping of BBQ chicken. Bike riding, playing Nintendo and badminton became favourite pastimes. He was almost fanatical about neatness and made sure my kids also made their beds each morning, something I can never seem to accomplish!
One day during our camping trip a storm was imminent, so we rushed to prepare for it. My brother-in-law went in one tent notorious for leaking, and piled the gear into the centre. Because of Dima's penchant for neatness we suspected it was he who put all the gear back in place. Everything got soaked and all four boys spent the night in the cars.
The last week and a half was spent getting Dima packed. We were given snowsuits and boots for him and his older brother through a huge clothing drive at CJOH TV. With the help of friends and family, we packed personal items such as vitamins, Tylenol, bandages, cough medicine and school supplies. Even if a Belarusian family has the financial means to purchase these things, they are usually not available. Dima also had a check-up with our family doctor, and eye appointment with our optometrist, and four visits to our dentist. All of these people donated their time and expertise, for which we are extremely grateful.
On 6 August Dima started his journey home. With green sneakers, a denim jacket and blue jeans, a white T-shirt with a big red maple leaf and a Star Wars hat, he looked like any Canadian child. It was hard to let go, but he was so happy to be going home to his family, I could not dampen his joy with my selfish feelings. I was happy for him and his parents. I am sure he left thinking I was a bit nuts because of my over-protectiveness, and I know I have added a few grey hairs, but it was worth it.
Will we sponsor a child again? In a minute! We have already begun our fundraising for next year. We hope it will be Dima, but if not there is a list of hundreds of children waiting to be sponsored. This year alone, 600 children came to Canada through the CRFCVB. We highly recommend it.
For more information check the web site at http://www.cybertap.com/belarus/ or write to:
The Canadian Relief Fund for Chernobyl Victims in Belarus
190 Bronson Avenue
Ottawa, ON
K1R 6H4
---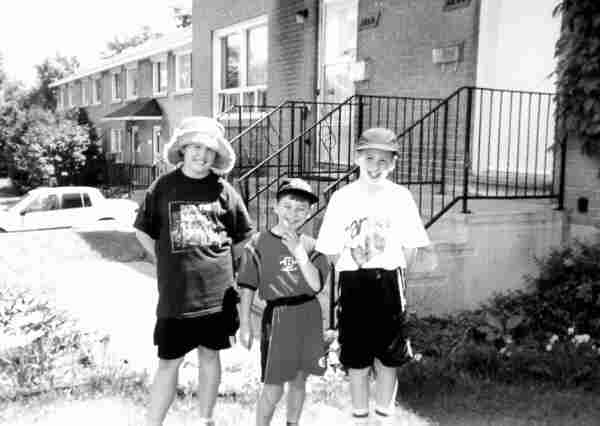 Kate MacRae, Dima Koslov and Andy MacRae