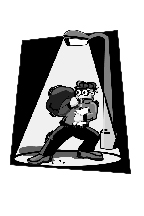 Here to Support the Community
Constable Bruce Marshall was recently assigned to oversee the activities at the Carlington Community Police Centre in the Westgate Shopping Centre. Volunteers are at the Police Centre to assist you on:
Weekdays, from 10 a.m. to 4 p.m.
Wed. and Thurs. evenings from 6 to 9 p.m.
Saturdays from 10 a.m. to 1 p.m.
Drop in at the Centre or contact us by telephone at 236-1222 (extension 5814 or 5815 or extension 5816 to speak to the constable). If you are interested in becoming a volunteer, drop in and complete an application form.
At the Centre, we take the following reports (and provide you with a case number, as required):
Vandalism or damage to motor vehicles
Theft from motor vehicles
Lost and found articles
Stolen or recovered stolen property
Property damage
We can provide you with information (and required supplies) on:
Vials for Life
Home Security (*inspection if required)
Neighbourhood Watch
Operation Identification (engraving pen)
Child Find Program (*fingerprinting)
Other crime prevention information
* You may contact the Centre to make arrangements for a home security evaluation. Volunteers who have been trained in conducting security evaluations will assist you in checking your home to determine possible entry points and any weaknesses they may have. Remember that they will go to your home at your request only and will have their Ottawa-Carleton Police Volunteer photo identification card.
* If you would like to have your child's fingerprints taken (as part of the Child Find Program), you should call prior to your visit to ensure that a volunteer who is trained in fingerprinting will be available at that time.
To report a personal crime or break and entry, call 236-6211. For a break and entry in progress or any life-threatening incident, call 911.
To register a firearm, you may obtain the appropriate form from your local post office outlet and follow the enclosed instructions.
To turn in a firearm for disposal, call 236-1222 (extension 2276) to obtain information on "how and when" to bring the firearm to the Police Station on Greenbank Road.
To report a motor vehicle accident, drive to one of the following Collision Report Centres within 24 hours after the accident:
245 Greenbank Road (open 24 hours a day)
474 Elgin Street (open 24 hours a day)
4561 Bank Street (open 24 hours a day)
700 Blair Road
95 Abbey Hill Drive, Kanata
If the vehicle cannot be safely driven, call 236-1222 (extension 7400). Note that if there are personal injuries you should call 911.
If you require further information or have a question or concern that you would like to discuss in more detail, do not hesitate to drop in or contact us at 236-1222 (extension 5814 or 5815) or speak with Constable Marshall at extension 5816.