A good time was had by one and all at the second annual Bellevue Auction held at the Carlington Recreation Centre on 22 October. Carlington Community Chaplaincy volunteers partnered with the City of Ottawa and Housing staff to collect and auction a large variety of items, much to the delight of those who came. Stars of the evening were professional auctioneers Scott Morris and Shaun Lalonde, who donated their time for the second year to lead the evening's events. At times the fast and furious pace became almost comical as some of us just couldn't keep up! Two keen children in the front row who bid for everything further spiced up the evening's hilarity.
Money raised will go to support programs in the community.
---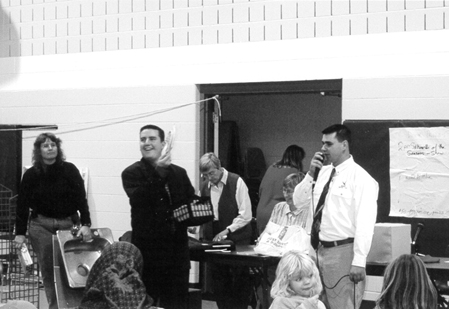 Auctioneers Scott Morris (suit) and Shaun Lalonde (microphone) strutting their stuff. In the background, Bellevue Interim Recreation Director JoAnn Davidson showing that even the kitchen sink was for sale at the Bellevue Community Auction!