A ďdam goodĒ boxing club arrives in Carlington
The hard working group of men and women at the Ottawa Beaver Boxing Club have moved into the Carlington area and are making quite a splash.
Under the direction of Joe Sandulo, the club not only offers 'ÄėBoxercise' classes for adult members interested in fitness, but also enters its more aggressive participants in boxing tournaments around eastern Canada and the US.
One of their most successful partnerships is with the Ottawa Police Youth Centre, for whom they mount a Gala Boxing night annually at the Aberdeen Pavilion to raise funds for both programs. At $100 each, last year's 600 seats were sold out three weeks in advance.
The club is now located in the municipal building beside the Fire hall at Kirkwood and Carling Avenues and every Monday, Wednesday and Friday nights from 5-8 p.m. the place is hopping. Mike Scott is a volunteer trainer and board member with 'ÄėBeavers', when he's not busy at the Rideau Canoe Club.
'ÄúA lot of training involves foot work and I like to focus on that. Most people come for recreation and getting in shape. You can lose twenty to thirty pounds working out here.'ÄĚ says Scott. It's pretty clear from his style that he has had ring experience.
'ÄúI boxed for six years out of the RCAF station at Rockcliffe'ÄĚ. He adds, perhaps wistfully, 'ÄúI took part in the Olympic trials in 'Äė56 but I didn't go to Australia.'ÄĚ
'ÄúWe survive in volunteers like Mike,'ÄĚ says Sandulo, who likes to show off the competitive side of the club. Young fighters like Samir Louati and Simon Turtle, who work out regularly on one of the two rings, carry on the Beaver's strong tradition of producing top flight boxers.
Samir has been at it for only a year now. Still, he's won all his five bouts, with the referee stopping four of them, which speaks to the intensity of this Beaver's smack. He'll be in St, Catharines in late October for the Junior Championships.
---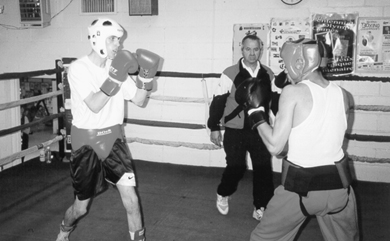 Joe Sandulo referees as Samir Louati, spars with Simon Turtle.