I'd like to begin this article by sending Kudos to Laurie E. Joe, a clinic lawyer from the West End Legal Services. I was thrilled to open the October 1999 issue of the Carlington Summit and read her article titled "You and the Law, Applying for Disability Benefits", which neatly summarizes the new Ontario Disability Support Plan (ODSP).
I would like to build on her article and by talking about the ODSP Employment Supports and three local agencies that attempt to assist persons with disabilities in securing employment.
Every third Wednesday of the month, Disabled Persons Community Resources (DPCR) hosts a Disability Issues Information Session. These sessions are for persons with disabilities and we invite you to attend. For more information, please call me at 724-5886.
September featured Employment Supports for persons with disabilities. We provided information on the provincial government's new Employment Supports program, which provides assistance to persons with disabilities wishing to get and keep jobs. If you have a disability, ODSP-Employment Supports offers you the opportunity to work, to become independent, and to reach your employment potential.
It was implemented in January and replaced the former Vocational Rehabilitation program. Ontario's Ministry of Community and Social Services funds the program. The federal government also provides funding under the Employment Assistance for Persons with Disabilities Agreement.
To be eligible for ODSP Employment Supports, you must be a person with a disability, 16 years of age or older, a resident of Ontario, legally entitled to work in Canada and you must also be willing and able to prepare for, accept and maintain competitive employment. The program defines competitive employment as a job that pays you a salary (full-time, part-time, at the minimum wage or higher).
Employed persons with disabilities are eligible for Employment Supports if they are unable to remain at work because of serious disability-related barriers. You can apply for ODSP Employment Supports at the Ministry of Community and Social Services by requesting an application package in person or by telephone 787-5250.
There are three agencies that assist persons with disabilities locally. Line 1000 Placement Services, Inc. is a community based, non-profit employment placement agency that provides individualized assistance to disabled and disadvantaged people within the Ottawa-Carleton area since 1979. Their employment services include placement, career counselling, workshops, labour market information and an employer network. They can be reached at 731-7620.
The Neil Squire Foundation creates opportunities for people with physical disabilities. Its Creative Employment Options Program helps people with physical disabilities prepare for competitive employment through computer training, career development, health promotion, literacy skills training and job placement. For more information, call 723-3575.
The Ontario March of Dimes, 225-3912, also features an employment program for people with disabilities. Their Supported Employment program provides support on a one-to-one basis and includes employment preparation, job development, on the job support and on going support.
For more information concerning ODSP and ODSP-Employment Supports, contact DPCR or to drop by (1525 Carling Ave., Lower Level) and pick up our free publications on the two subjects.
---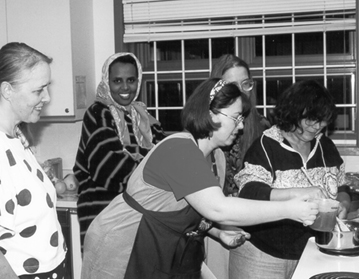 Cooking together makes it easier to be adventurous: two volunteer Community Food Advisors from the public health department demonstrated spicy squash soup, along with many other divine squash and apple recipes, for an Oct. 13 workshop at Carlington Community and Health Services. Call dietitian Marian Yusuf at 722-4000 to learn more about workshops and collective kitchens.