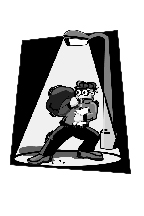 Volunteers are at the Carlington Community Police Centre in the Westgate Shopping Centre to assist you on:
Weekdays, from 10 a.m. to 4 p.m.
Wed. and Thurs. evenings from 6 to 9 p.m.
Saturdays from 10 a.m. to 1 p.m.
Drop in at the centre or contact us by telephone at 236-1222 (ext. 5814 or 5815 or ext. 5816 to speak to the constable). If you are interested in becoming a volunteer, drop in and complete an application form.
Home Safety
Here are a few guidelines that should help in making the outside of your home more secure:
Garage doors should be closed and locked.
All ladders and tools should be stored and inaccessible to intruders.
Picnic tables should be secured to fences or trees away from the house so they can not be used as ladders.
There should be adequate lighting at all times. Photoelectric switches that turn exterior lights on at dusk and off at dawn, motion detector lights, timers to turn lights on and off at appropriate times are all useful devices, especially when you are away.
Bushes should be trimmed to minimise the number of hiding places for prowlers.
Hedges should be a maximum of four feet high. The wish for privacy is often outweighed by the need for visibility and security.
Street number signs on the house should be large and easy to read from the road. They should also be visible and illuminated at night.
The family name should not be displayed outside the home. This allows a burglar to look up the phone number and call on some pretext to see if anyone is at home.
Visibility and adequate lighting are also important at the back of the house. Neighbours behind your home can notify the police if they see someone lurking in your backyard or trying to break into your home.
A Reminder
A thief does not always resort to break and enter to steal valuables from your home. Never let strangers enter your home without proper identification. If they don't have any, refuse to let them in and report it to the police immediately.
If they ask to come in to use your phone, offer to make the call for them. If they insist and do not leave the premises, ensure that your doors are locked and call the police immediately.
If you require further information or have a question or concern that you would like to discuss in more detail, do not hesitate to drop in or contact us at 236-1222 (ext. 5814 or 5815) or speak with constable Bruce Marshall at ext. 5816.