We would like to thank the many children that participated in this year's Santa Claus Parade and the many children that came out to watch the Parade.
With the weather clouding over and showering us with a few drops of rain the parade was a great success.
We had over 50 children in this year's Dance Alliance Parade Entry, we had Pom Pom, dancers, and twirlers of all ages . We would like to thank the many volunteers who helped organize this year's parade, the many parents who participated by bringing the children to the many practisces.
Thank you to Sue Campo who volunteered much of her time to organize this event, another job well done thank you Sue.
---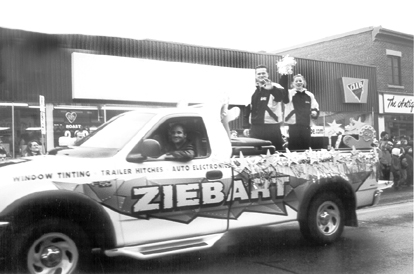 Thank you to Ziebart for sponsoring our Parade Entry for the second year in a row, not only did Ziebart volunteer a vehicle but also the time and the loan of a generator for our music. Riding on the truck are Ashley Carkner and Carl Carkner.