BOOOOOOO!!! Well the ghosts and goblins were out in full force on October 30th. The Alexander Community Centre hosted the largest pre-teen Halloween Dance, with more than 200 participants.
This was a spooky adventure. Thank you to the many parents and volunteers for making this such a successful event and a special Thank you to Jason Saikley, who was the D.J. for the night, the music was fabulous.
With the dance in full swing Tracy was able to open the Canteen, which was very busy - many thanks to Melissa and Chelly who maintained the canteen.
Special Thanks also go to the following people: Joe Batson; Louise Gervais; Marylou Knight; and Kevin (Dirt) and Tracy Lajeunesse for volunteering their time and energy for this event.
Prizes were given out for the best costumes in 4 categories.
We raised more than $300 at this event, all money raised will go to the Christmas Food Basket.
---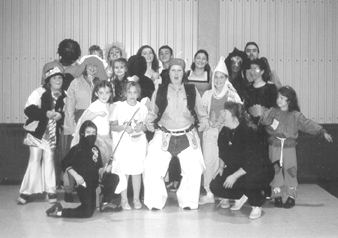 Group shot of all the Halloween volunteer crew helping clean up at the end of the dance.