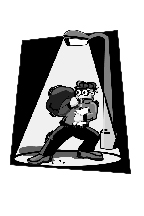 This month: Car Theft Prevention
While you are busy shopping during the holidays, try not to leave a trail of opportunities for someone to steal or break into your vehicle. There is a variety of anti-theft devices on the market. In addition to using these devices, motorists should also take the following precautions:
When you park your vehicle, ensure that no items have been left in plain sight. Something that seems worthless to you may be what attracts a thief to break into your vehicle.

Never leave a wallet or purse in your vehicle (not even in the glove compartment, under the seat or in the trunk).

Always close windows and lock doors even for a short period of time. You may be delayed or a thief may be just waiting for the opportunity.

Park in areas that are well lit and where there is pedestrian traffic.

Borrow an engraving pen from the Carlington Community Police Centre and mark items such as cellular phones and stereo systems. Whenever possible, take these items with you.

If you're in a shopping centre or other type of centre where a locker is available, store valuables in it. The locker rental cost could save you a lot of money in the long run.

In a mall, when you lock something in the trunk, you should move your car to another area of the parking lot before continuing your shopping. Some thieves spend time in parking lots waiting for people who lock something in the trunk and then leave the vehicle.

Never leave a remote control garage door opener in your vehicle. The car thieves could then use your garage as a point of entry into your house.

If you notice a person acting suspiciously around a vehicle, report it to the police immediately.
Remember that if "an ounce of prevention is worth a pound of cure", a few extra minutes of time must be worth several hours of stress and frustration, not to mention the amount of $$$.
Volunteers are at the Carlington Community Police Centre in the Westgate Shopping Centre to assist you on weekdays from 10 a.m. to 4 p.m., on Wednesday and Thursday evenings from 6 to 9 p.m. and on Saturdays from 10 a.m. to 1 p.m. Drop in at the Centre or contact us by telephone at 236-1222 (ext. 5814, 5815 or 5816) to speak to the Constable Bruce Marshall. If you are interested in becoming a volunteer, drop in and complete an application form.
I would like to take this opportunity to extend our Season's Greetings and wish everyone in the community a Safe and Happy Holiday!