Ottawa's Spring Action Trampoline Club had a very successful weekend at the 1st Ontario Trampoline Qualifying Competition on November 13 and 14. The competition was held in conjunction with the Canadian Living Parents & Kids Show at the Metro Toronto Convention Centre. This was the first trampoline competition of the season and the first competition ever for five of the young Spring Action Team members. Thirteen year-old Alex Adcock made an impressive début in the sport of trampoline, winning a Gold medal in the Provincial 1 Boys level. Alex comes to trampoline from a background in freestyle skiing.
Matthew Patry, age 15, took the Gold medal in the Provincial Open category with a performance that also qualified him to represent the Eastern Region at the Ontario Winter Games which will be held in Sault Ste. Marie in March, 2000. Nicholas Rizewiski of Spring Action will be the alternate for the Ontario Winter Games Eastern Region Team. Rizewiski received a bronze medal in Level 2 Boys competition, with team-mate Jonathon Keon close behind in 4th place. Eleven year-old Kelly Vertes placed 4th in the Provincial 1 Junior Girls Category.
Ottawa also showed strong results at the National level with four silver medal performances. Kathleen Lane took silver in the Novice Women's category and Geoff McGill missed the gold by only 0.1 points in Novice Men's. Canadian Team member, Heather McManus, also from Spring Action, received the other two Silver medals for her performances in the Senior Women's Synchronized competition with partner Brenna Casey, and in the Two Trick Spectacular event where she was second to future Olympian, Karen Cockburn!
Trampoline is a new Olympic sport. Competitions consist of a compulsory routine which is judged for style and execution (similar to diving or gymnastics), and an optional routine which is judged for both execution and difficulty. Each routine has ten skills which must be performed consecutively. Karen Cockburn and Matthew Turgeon of Richmond Hill will be representing Canada at the 2000 Olympic Games in Sydney, Australia.
---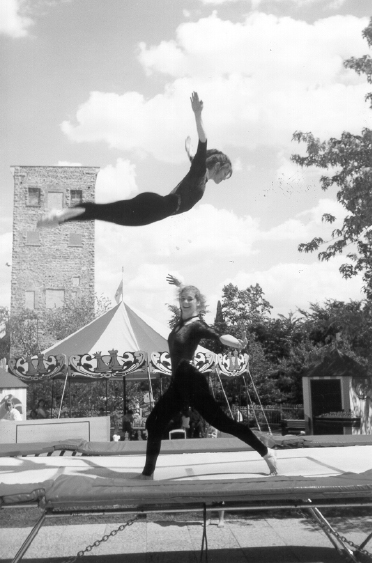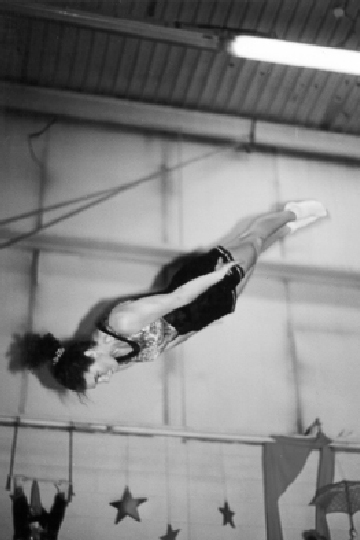 All photos by SportsWatch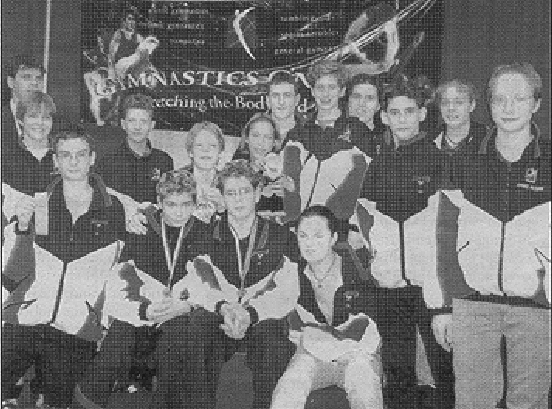 Spring Action Trampoline Team: (back) Sean McManus, Heather McManus, Eric McGill, Alex Adcock, Yolande Usher, Geoff McGill, Kelly Vertes, Kathleen Lane, Giacomo Trottier, Lynn Ashdown, Karine Halpenny. (front) Jonathon Keon, Nicholas Rizewiski, Matthew Patry, Cathy Savage.