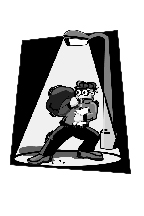 Volunteers are at the Carlington Community Police Centre in the Westgate Shopping Centre to assist you on:
Weekdays: 10 a.m. to 4 p.m.
Wed. & Thurs. evenings: 6 to 9 p.m.
Saturdays: 10 a.m. to 1 p.m.
Drop in at the Centre or contact us by telephone at 236-1222 (extension 5814 or 5815). Constable Bruce Marshall oversees the Centre's activities and can be reached at extension 5816. If you are interested in becoming a volunteer, drop in and complete an application form.
Protecting your home against burglary
Burglary is not a sophisticated crime - it is a crime of opportunity. Burglars do not choose victims - they choose opportunities. There are ways to assess your vulnerability and to reduce your risks. The following is the first part of a checklist. Go through it twice, once during the day and again at night, to see where your security could be improved.
Are your house and grounds visible from the street and from your neighbours' homes?

If all accesses are visible to neighbours or from the street, burglars are less likely to break in.

Does your property have a fence or other deterrent to discourage trespassing?

Fences, although not impassable, act as a deterrent to burglars. Fences and hedges however, can also conceal burglars. Therefore, a fence that you see through is best.

Do all your doors have outside lights? Are they turned on at night? Are the light bulbs protected?

Well-lit entrances discourage burglary. Motion sensor lights are particularly effective. But your light bulbs should be protected to prevent breakage or tampering.

Are all your doors and windows visible from all angles?

Shrubbery, though pleasing to the eye, can provide a hiding place for a burglar. Pruning and exterior lighting to remove shadows may solve the problem. Also, keep in mind that such things as cars and sheds can block the view of entrances and windows.

Are your exterior doors and frames sturdy?

Secure doors are more than just good locks. The doorframe and hardware (hinges, locks and fasteners) form a mini-security system that is only as good as its weakest point.

Are windows in or near your doors protected from breakage?

Windows in or near doors should be made of treated (safety laminated or tempered) glass, wired glass, break-resistant acrylic or polycarbonate plastic. If they are not, you should replace them.
Assessing your home's security is the first step in crime prevention. If you answered "NO" to any of the questions, your home security may have a weak link that a burglar may exploit. Look in next month's Summit for the second part of this checklist. If you would like trained volunteers to assist you in conducting a security evaluation of your home or one of our trained volunteer to address a group on the subject of home security, contact us at the Police Centre at 236-1222 (extension 5814 or 5815).