In the depth of another cold Canadian winter it is heartwarming to know that there is a warm, inclusive and welcoming spirit in Ottawa as illustrated by the co-operation and partnership between a group of multicultural students and some local businesses. The graduation of the very first group of students in the LERN Project (Language instruction for Employment Related Needs) recently took place with Mac Harb, the M.P. for Ottawa Centre, officiating at the ceremony on Friday, January 21. As an immigrant to Canada himself, Mr. Harb possesses a special understanding of some of the factors which motivate people to come to Canada and make new lives here.
Mr. Harb spoke in glowing terms of the merits and strengths not only of our beautiful country but also of the strengths and assets that the diverse group of newcomers bring with them to enrich their lives as well as the lives of those who, along with their families, have lived in Canada for generations.
The students have just completed a 16-week program offered by MALKAM Consultants. This pilot project, sponsored by Citizenship and Immigration Canada, is designed to give newcomers to Canada an opportunity to improve their English language skills as well as some exposure to Canadian business. In conjunction with their language classes the students, all of whom are in their 20's, learned about customer service and had opportunities to put their new-found knowledge of English and customer service into practice by participating in job shadowing one day a week.
Several merchants and organizations in the community helped contribute to the success of this project. Merchants not only in the Westgate Shopping Centre, where MALKAM Consultants' office is located, but also in the larger community, were particularly helpful and cooperative in accepting students for job shadowing placements into their businesses. Students were placed at such diverse locales as A Buck or Two, Bi Way, Canadian Tire, CompuSmart, Handa Travel, One-Hour Motophoto, Market Fresh, the RA Centre, Saslove's Meat Market, Shopper's Drug Mart and Winners. This spirit of co-operation and partnership between businesses in the Ottawa community helps all of us to realize the values that can be gained in assisting not only newcomers to our community but one another as well. As a community, we can continue to thrive, grow and welcome a diverse, multicultural population into our midst with initiatives such as the LERN Project.
---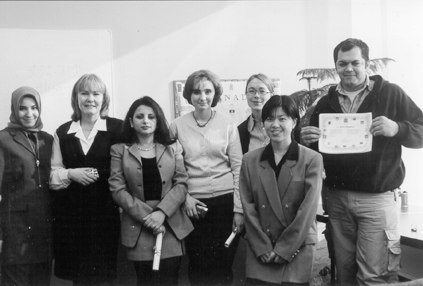 Graduates of the very first group of students in the LERN Project (Language instruction for Employment Related Needs.