Rosette Wakeham is not only a whirlwind of heart in her public housing community but now, despite her personal hardships, a bit of a celebrity. Her ready laugh can animate a room but it is Rosette's commitment to community that has mobilized the creative energies of her fellow residents in the Caldwell area and that the City of Ottawa has recently recognized. Indefatigable, and generous of spirit, the long time President of the Bellevue Manor Tenants' Association was honoured recently by Mayor Jim Watson with the Mayor's Award for making Ottawa a better place to live. The Mayor noted that Rosette "works tirelessly to make a difference for those who are less fortunate than herself and to help build a sense of community," especially for children.
Those who know Rosette personally were more effusive. "She is the most dedicated woman you could find this side of Heaven," said Lorena Morris, Director of the Caldwell Family Centre. "She is 100% cheerful. I have never seen her gripe." "She works awfully hard for the community", commented Maurice Viau. Staff and residents at Bellevue were a unanimous chorus of enthusiasm. "She's outgoing, very genuine and passionate." "She has an unconditional heart." "Rosette puts the community in front of herself." "It's not about her. It's about everyone else," they raved.
Her smile, however, belies her personal history. A successful government worker, Ms. Wakeham was forced into poverty by an abusive husband who threatened the safety of herself and her three kids. She ended up on Caldwell Avenue and tried for years to rebuild her life but his stalking and the complications of its effect on her health and the children's development finally took their toll. Once, when he found her, "He trashed my car," she explained quietly.
One day she came to the realization that Bellevue Manor was actually her home, not just a transition point. "I was in denial," she said about her situation. The community helped her through her crisis and she never forgot it. She started to volunteer and soon became the child care co-ordinator. "There's great value in volunteering," she came to realize. "You learn that people have great qualities and you can see how much your few hours give people great joy."
In fact, though, it never really was just a 'few hours.' The park needed a play structure like other kid's parks. So the community pulled together and people pitched in to build one. And thus began what would be for Rosette, a transforming episode in her life. Residents started volunteering who never did before. The neighbours worked for five days, non-stop, day and night on the new play structure. Rosette still remembers the old lady who could do nothing but give out water for everyone on those hot July days, and that's what she did. People stayed up all night to protect the site. The media came out and soon businesses from across the region donated materials and equipment. It was a beehive of activity. Rosette was amazed and caught by the transforming power of community. She is still amazed when she remembers those July days.
Before she knew it Rosette was President of the tenants' association at Bellevue. She started a Scout Troop there, helped to rebuild the gym floor and rewrite the Tenants' constitution. She is a member of the youth coalition, the Park Safety committee, Good Strong Neighbours, the Strong Hold Community Home, the Good Food Box and probably a few more. More recently she realized the larger community needs to hear about poverty issues too, which is why she also sits on the Region's Poverty Task Force, and speaks to church groups about how people end up on welfare.
But she knows she can't keep up this pace. "I feel badly, like I'm feeling the loss of not being able to give to people the effort I used to." So in September Rosette wants to go back to school at Algonquin, in Child and Youth Worker studies. "It will strengthen my skills to help people better."
Her energy and caring have returned to Rosette a wealth of riches most people would envy. "I don't know who nominated me for this award," Rosette commented shyly. "I asked but nobody seemed to know." As one lady, who called the Mayor's office to nominate Rosette herself, found out, in fact a whole lot of people called in the name of Rosette Wakeham for the Mayor's Award for improving life in Ottawa. It's no surprise.
---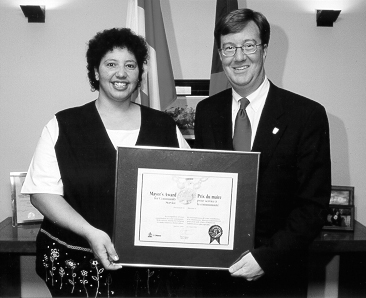 Mayor Watson presenting Rosette Wakeham with her Mayor's award.