Residents and neighbours of Bellevue Manor gathered recently to say goodbye to two of their longest serving and most popular staff. A spirited group of about 75 adults and children cheered and applauded Joann Davidson and Sharon Dunn as they were presented plaques and flowers and scarves in appreciation of their hard work for the residents of the public housing project.
Bellevue Manor Tenants' Association President, Rosette Wakeham, in her presentation praised the two for their "devotion to our youth and their families." Ruun, a new Canadian from Somalia gave them rarely-presented scarves commemorating their accomplishments.
"There is a real heart to this community," said Sharon who is resigning as the Community Developer for Youth from Carlington Community and Health Services, to spend more time with her own three children. Sharon, who has been there for more that four years, began at Bellevue 20 years ago in Joann's spot. "The programs are really driven by the community," she added, noting that the Youth Advisory Team gives a lot of direction in their weekly meetings.
Joann, a City of Ottawa employee, is leaving to take over as Recreation Program Coordinator at Fisher Park. The lobby full of teenage girls clad in traditional Muslim head scarves screeched in delight at the news that she was going to their school. "This is a strongly knit community. They work well together to support each other," Joann said remembering the work many residents put into replacing the gym floor after the famous Nike proposal was rejected by City Hall. "Compared to when I began here over six years ago there are a lot fewer issues now," she added referring to a past history of drug and police issues. "There's a lot of great accomplishments."
The two will be missed. Brian Gerrard of Christie Lake Camp, which runs year round programs at Bellevue, described them as very helpful advocates for Christie Lake. "Very lovely gals," said another professional from the area. "The children are heart broken to see them leave. They didn't count their hours and were really there for the kids. Joann knew not only all their names but all their needs. Well, let's hope they can get someone to fill their places."
---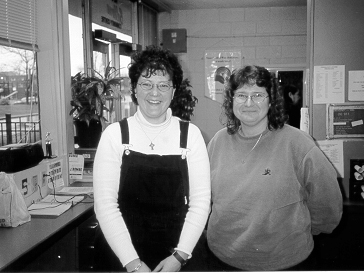 Sharon Dunn (left) and Joann Davidson in the office at Bellevue Manor.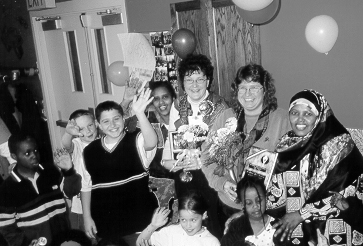 Sharon Dunn (left centre) and Joann Davidson surrounded by friends at their farewell party in Bellevue Manor.