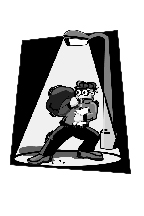 Volunteers are at the Carlington Community Police Centre in the Westgate Shopping Centre to assist you on:
Weekdays: 10 a.m. to 4 p.m.
Wed. & Thurs. evenings: 6 to 9 p.m.
Saturdays: 10 a.m. to 4 p.m.
Drop in at the Centre or contact us by telephone at 236-1222 (extension 5814 or 5815). Constable Bruce Marshall oversees the Centre's activities and can be reached at extension 5816. If you would like trained volunteers to assist you in conducting a security evaluation of your home, contact us at the Centre. If you would like a trained volunteer to address your group (in English or in French) on home security, personal safety and protection against fraud, contact Louis Tremblay at 722-3699.
Bicycle Safety
Once again, bicycles are out in full force and we would like to remind all cyclists to:
Never ride on sidewalks
Ride single file on all roads
Look in every direction before proceeding at intersections
Obey all stop signs and traffic lights
Always signal when turning
Watch out for motor vehicles and wear protective gear (such as a helmet)
And, finally, remember to lock your bicycle when you leave it or some one will steal it!
The following information will be required when reporting a stolen bicycle:
Your Name and Address
Address Bicycle stolen from
Serial Number* of Bicycle
Frame Size and Colour
Wheel Size and Colour
Number of Gears; and
List of Additional Items on Bicycle.
* To reclaim a stolen bicycle you will require a serial number or have your own identification number stamped on the frame.
Please keep a record of the above information in case your bicycle is stolen. It will enable the police to identify it more quickly if it is found.