Volunteer week from 9 - 14 April was a special time to recognize the dedication of our regular volunteers, a time also to say a warm and heartfelt thanks for their many services and continued presence. We prepared this event by having a pizza-lunch-meeting to evaluate the last six months of service and to share insights into how we could improve our contribution. We also planned what would be an interesting way of celebrating together.
On Friday 14 April, we met at the Swiss Chalet for dinner. During the meal each volunteer received a certificate of distinction for their service. A door prize was won by Ed Sherman who has volunteered at the Centre since the very beginning. A large cake inscribed with APPRECIATION was also enjoyed by everyone. In honouring our regular volunteers, The Family Centre wishes to recognize the contribution of the great number of dedicated helpers who lend a generous hand for many events such as: the Food Drive; Annual Bazaar; the Benefit Concert and much more.
On April 19th, a special Easter breakfast was served to over seventy people. Doug Woodcroft was the lucky winner of an Easter basket. Everyone left with a little Easter treat prepared by the staff.
With the coming of May, everyone anticipates a backyard BBQ and more special events for the summer months.
---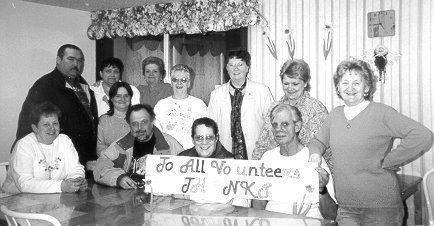 Back row: Steve R., Andree W., Geri L.
Second row: Joan S., Pat M., Lorena M., Diane L., Helen S.
Seated: Gloria D., Luis F., Shirley C., Ed S.