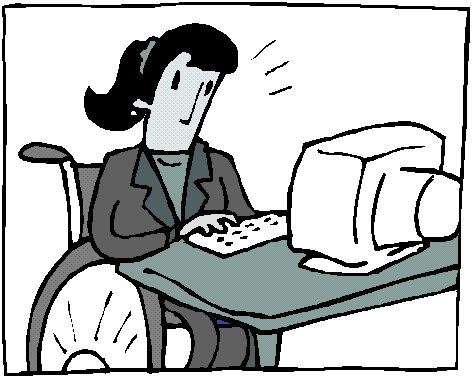 One of the elements of Disabled Persons Community Resources (DPCR) mission is to identify unmet needs and gaps in services and advocate for programs to meet the needs of persons with disabilities. The DPCR is involved with two initiatives of the Region of Ottawa-Carleton. The first is with "Partners for Jobs: Investing in the Community" and the second is with the Region's Homelessness Initiatives project.
Disabled Persons Community Resources (DPCR) is involved in the "Partners for Jobs: Investing in the Community" initiative which started in January 1999. The goal of the project is to seek out employment opportunities for underemployed and unemployed individuals in Ottawa-Carleton. The Region has created partnerships with several agencies that support underemployed and unemployed persons looking for jobs.
As one of the Region's partners, DPCR has secured funding to support a "Work Accessibility Research Project". The purpose of this project is to develop a job sculpting employment approach for persons with disabilities wishing to integrate the job market. Project partners hope to increase employment opportunities for individuals with significant disabilities who require a greater level and frequency of on-the-job support in order to get a job and keep it. The project manager, Shelley Ann Morris is working with a Steering Committee representing agencies assisting those with employment barriers. Together, they are developing a report that will highlight the specific employment support needs of this group and identify possible job opportunities through the use of the job sculpting approach.
Disabled Persons Community Resources is involved in the Region's Homelessness initiative. DPCR's involvement started when staff consulted with members of the Region's Homelessness Initiative Team. DPCR's Community Support Worker wanted to gain more knowledge about the services and supports available to homeless persons with disabilities in the region. This led the Community Support Worker and the Community Resource Development coordinator to approach a number of the homeless shelter providers. They asked them about service provision to this population and with them, tried to identify any unmet needs and/or gaps in services to homeless persons with disabilities. The consultation should be completed by late spring. Once it is finished, DPCR would welcome the chance to liaison with homeless shelters on an on-going basis in order to support their efforts to improve their services to homeless individuals with physical disabilities.
DPCR invites the community to tell us about the needs for new or unmet services for persons with physical disabilities. Interested persons can write to Disabled Persons Community Resources, 1525 Carling Avenue, Lower Level, Ottawa, Ontario, K1Z 8R9. They can fax us at (613) 724-5889 or call us at (613) 724-5886.