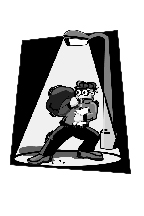 Volunteers are at the Carlington Community Police Centre in the Westgate Shopping Centre to assist you on:
Weekdays: 10 a.m. to 4 p.m.
Wed. & Thurs. evenings: 6 to 9 p.m.
Saturdays: 10 a.m. to 4 p.m.
Drop in at the Centre or contact us by telephone at 236-1222 (extension 5814 or 5815). If you would like trained volunteers to assist you in conducting a security evaluation of your home, contact us at the Centre. If you would like a trained volunteer to address your group (in English or in French) on home security, personal safety and protection against fraud, contact Louis Tremblay at 722-3699.
Protecting your home against burglary
Keep in mind that burglary is a crime of opportunity. Here are some additional tips to help you minimise the burglars' opportunities.
Garage doors should be closed and locked at all times.
All ladders and tools should be stored and inaccessible to intruders.
Picnic tables should be secured to fences or trees away from the house so they can not be used as ladders.
Tree limbs should be trimmed to ensure that burglars cannot gain access to second story windows.
There should be adequate lighting at all times. Photoelectric switches that turn exterior lights on at dusk and off at dawn, motion detector lights, timers to turn lights on and off at appropriate times are all useful devices, especially when you are away.
Hedges should be a maximum of four feet high. The wish for privacy is often outweighed by the need for visibility and security.
Street number signs on the house should be large and easy to read from the road. They should also be visible and illuminated at night.
The family name should not be displayed outside the home. This allows a burglar to look up the phone number and call on some pretext to see if anyone is at home.
Visibility and adequate lighting are also important at the back of the house. Neighbours behind your home can notify the police if they see someone lurking in your backyard or trying to break into your home.
Install locks on interior doors leading to areas such as garages, solariums and basements.
Inform family members about your security precautions and make sure they practice good security habits.