The recent announcement of the imminent closure of their school did not affect the spirit and determination of the St Joseph's Intermediate School Cheerleading Squad. The 21-member team travelled to St Catherines on May 5-7 to participate in the provincial competition at Brock University. Hours of weekly practice and Saturday choreography sessions paid off when the girls won first place in the Junior Division. Congratulations to Meryl B, Konnie T, Betsy C, Oxsana M, Agatha R, Stephanie B, Sarah D, Becky J, Sarah H, Debbie S, Jessika S, Beth H, Meghan M, Lourdes D, Ryta S, Caitlin R, Lindsay C, Fabiola S, Fabienne S, Joelle B, Stacey H. Special thanks to coaches Mrs Gorman, Mrs Bates, Amy L and Allison C.
Notre Dame High School cheerleaders made the finals, placing seventh in "Varsity A" Division. Congratulations to Kendra S, Krinstins S, Jenny S, Catherine P, Juana Di, Shonna G, Steph C, Kristina B, Marilyn P, Lilian D, Shannon L, Jane K, Vi N, Kathleen O, Chelsea B, Nicole S, Jessica L, Jessikah C, Jenny D. Special thanks to coaches Ms Valiquette, Larry B and Dave L.
"We're very proud of our team," said Kathy Gorman, team coach and a teacher at St. Joseph's Intermediate. "They've worked very hard and it's nice to see that commitment rewarded."
This is the first year St. Joseph's has had a cheerleading team. The former St. Raymond's Intermediate School, which was closed last June, had an award-winning team, and five members of that cheerleading squad are currently members of the provincial championship St. Joseph's team. Ms. Gorman said the other 16 members of the St. Joseph's squad have never participated in cheerleading before this year.
The St. Joseph's squad competed against 14 other teams in the junior division at the Ontario championships. "This is a wonderful achievement," said Phil Rocco, OCCSB Director of Education. "The success enjoyed by the St. Joseph's cheerleaders, along with the other three teams that competed provincially, is an indication of the commitment to excellence that is prevalent among many of our students and staff throughout the Board."
The St. Joseph's team practices four hours a week and has held a series of Saturday sessions devoted to team bonding and developing the choreography in preparation for competition. St. Joseph's Intermediate teacher Tracy Bates also helped coach the team, along with two fourth-year students from the University of Ottawa, Amy Latimer and Allison Camilucci. Both university students are former members of the St. Raymond's Intermediate cheerleading team.
---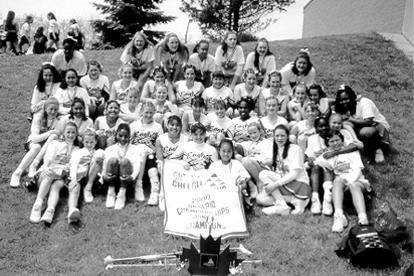 Notre Dame and St Joseph Cheerleading Squads show their team spirit and support.