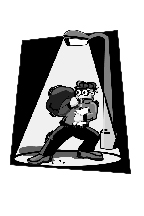 Volunteers are at the Carlington Community Police Centre in the Westgate Shopping Centre to assist you on:
Weekdays: 10 a.m. to 4 p.m.
Wed. & Thurs. evenings: 6 to 9 p.m.
Saturdays: 10 a.m. to 4 p.m.
Drop in at the Centre or contact us by telephone at 236-1222 (extension 5814 or 5815). If you would like trained volunteers to assist you in conducting a security evaluation of your home, contact us at the Centre. If you would like a trained volunteer to address your group (in English or in French) on home security, personal safety and protection against fraud, contact Louis Tremblay at 722-3699.
The summer holidays are just around the corner! Burglars are very often at their busiest when the rest of us are away from home on vacation. There are a number of precautions you can take that will reduce the opportunities that a burglar is looking for. Here are a few prevention tips:
Do not leave telltale signs that you are away. Have a friend or neighbour pick up mail and flyers and other ads delivered door-to-door. Suspend newspaper delivery, even for a weekend holiday.
Install good locks and always use them. If you have an alarm system, be sure to set it before leaving and leave the name and telephone number of the person to be reached in case of emergencies. Change your routine often. Burglars can operate on your routine.
Try not to "broadcast" that you are going on a holiday when you're in a store or other public area where strangers who are burglars may be waiting for such clues.
If you know your back door neighbours, ask if they would have a look at the back of your house and ensure that there are no shrubs or other obstacles blocking the view. Have the back yard well lit also.
Install timers on both outside & inside lights to go on at different times.
Do not keep large amounts of money in your home.
Mark valuable items for identification. Contact us to borrow an engraving pen and obtain information on the Operation Identification Program.
Keep valuables in a safety deposit box at your bank. If this is not possible, keep them locked up in a reasonable hiding place in your home. Keep in mind that if you have thought of a particular hiding place, burglars have probably already thought about it also.
Enlist the help of friends and neighbours to "keep an eye" on what's happening around your house and to report any suspicious activities. Call us at the Carlington Police Centre for further information and ask about the Holiday Watch Program. We may be able to help.
Have a happy and safe summer!