Dance Alliance Registration date is September 9th from 10 a.m. - 2p.m. at the Alexander Community Centre, 960 Silver St.
For more information please contact the Alexander Community Centre 798-8978
Pre-Registration has already taken place with over 200 registrations.
The Dance Alliance Dance Team has made many friends and have been a very positive part of the Community. The Alexander Community Association thanks the many parents and students who have participated this past season and we look forward to another season of achievements.
Each month we will be featuring a members of the Dance Alliance Team, this month we would like to congratulate Maria Mespolet who has been dancing since the early age of 3 years old and enjoying every year of dance. Maria has been teaching dance at the Alexander Community Centre for the past 4 years, and has recently earned her baccalaureate in Education from the University of Ottawa, Congratulations!
Maria has been working with recreational and competitive dancers, and has show enthusiasm and encouragement to all members of the dance program. We are very pleased to have Maria as a member of the Dance Alliance Team. Maria has also recently offered her talents to the Ottawa Gymnastic Club.
Along with offering workshops, Maria is the Camp co-ordinator of the summer Dance Camp at the Alexander Community Centre.
Maria and Natalie O'Byrne have been very busy this summer providing instruction for the Conservatory of Music choreographing, training and organizing dancers and singers for the Central Canada Exhibition.
---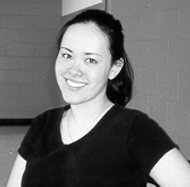 Maria Mespolet takes a break from her busy scheduale.