Summer 2000
We had a pleasant summer filled with interesting activities that helped make up for the weather.
June - Berry picking at a lovely location "Marier Berry Farm"
July - Annual picnic scheduled for Britannia Park - rained out. The BBQ was held at the Family Centre and the treats and good spirits made up for the rainy day.
August - A great visit to Omega (safari) Park
September - Day spent at a cottage in Cantley - Nature revitalized everyone present.
Fall 2000
The ESL classes continued with a brand new group of enthusiastic students
The sewing classes took on a new look - they are held four half days per week: Tuesday, Wednesday, Thursday afternoons and Friday morning.
The homework help began early in September with a regular group of 15 participants. Sr. Madeleine helps with French, Kim and So Phea with other subjects.
The Child Minding has a new Early Childhood Educator: Patricia O'Hagan. She is helped by an aide: So Phal Muth
The Citizenship Classes have completed their first session. The next will be in early 2001.
The Craft classes are every Monday from 1:00 to 3:00 p.m.
The Food Bank is very active and tries hard to answer to the needs expressed. Many donations are received from different groups and individuals. For all these, the Family Centre is most grateful.
The Computer classes have seen a number of students graduate from the basic training program. A new group begins after completion of the recommended 20 lessons.
The Annual Bazaar was held on November 11 and 12 and drew a very impressive number of people. We are grateful to all the volunteers and staff who put in many hours of hard work and to the generous donors who supplied us with gifts of every kind.
The Annual Food Drive directed by Jocelyne D'Aoust was held on Saturday December 2nd. See the write-up elsewhere in the Summit.
The Annual Christmas Party for our Regular Patrons will be held on Friday, December 15th. The Knights of Columbus from St. Augustine will prepare and serve the dinner - by invitation only.
The Family Centre will be closed from December 22nd at noon, until January 3rd, 2001.
---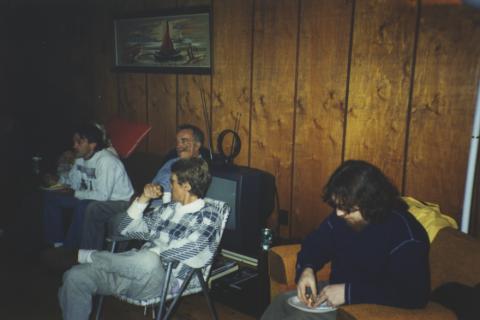 Just hanging out at the cottage in Cantley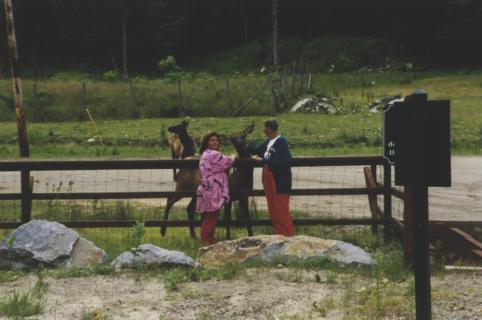 Enjoying the wild-life on our trip to Omega Park