T'was the night before the CARLINGTON FOOD DRIVE and all through the house, not a creature was stirring, not even a mouse, except for the spirit of Sister Thelma*... December 1 was her birthday you see. She said: "Everything's done, the lists have been checked, everything's planned, the soups are made, the beans are baked and my favourite egg sandwiches are ready to feed the cold, tired & hungry crew of volunteers tomorrow. Get some rest, everything will turn out for the best."
From the bottom of my heart I would like to thank everyone who participated in the December 2 Carlington Food Drive. There are so many individuals and groups of people who make this annual food drive a reality, it would be impossible to thank everyone individually.
They came from Carlington, Edwards, Orléans, Stittsville, Barrhaven, Hull and the Family Centre: men, women and children of various races, creeds and colours - working together, united in the spirit of giving.
Members of my family, friends, Carlington residents, and Caldwell Family Centre volunteers who usually show up to help in various ways, had a difficult time this year - one had the flu, another a knee replacement surgery, one a broken leg in a cast, the other a dislocated knee in a brace, one was moving ... But everyone, including la 43e Meute de Louveteaux et Colonie de Castors (Cub & Beaver Packs) de Saint-Rémi and some new volunteers, had the required drive and generous spirit to keep us going.
Thank you to the Carlington Summit for advertising the Food Drive, la Paroisse Saint-Bonaventure for providing the parish hall as "operations headquarters", Gary Shechtman (Mail Boxes Etc, Hampton Park Plaza) for the great service in photocopying the drop-off flyers and Loeb City View for donating the plastic bags used for pick-ups. Also, thank you to those who offered their home/business location as drop-off centres: Finateri Ltd on Merivale, the D'Aoust, Grandbois, Laporte and Tanner families, and of course, to all of you in Carlington who opened your door with a smile and words of encouragement with your generous contributions of food, clothing and money.
The first time I organized the Food Drive in 1987, some told me that it wasn't going to work. "You can't go door-to-door collecting food, much less get volunteers to do it." I'm glad we persisted and proved that: One idea, one project, one act of random kindness does make a difference. Sister Thelma*, the founding director of the Caldwell Family Centre in 1986, was my inspiration back then and has continued to motivate me after her death in 1998.
This was my last year of organizing and directing the Carlington Food Drive. I felt sad at having to let go after all these years but comforted at seeing so many young people there - the ones who will make sure that this type of endeavour is carried on through the generations and keep the spirit alive!
Un gros merci à tous.
Merry Christmas and to all a Happy New Year!
---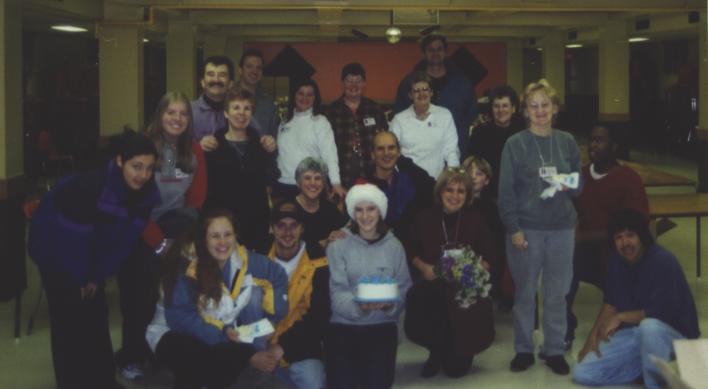 Food Drive Volunteers for the year 2000