I am writing this upon returning from the 14th annual Carlington food drive. It has been quite a day.
My wife, Linda, and I arrived at St. Bonaventure Church shortly after 9:30 on December 2. We were surprised to see the number of volunteers was fewer than in previous years. We are usually jammed into the church hall as we get our instructions from the powerhouse behind the food drive, Jocelyne D'Aoust. Shortly after we arrived, she explained that due to injuries, several members of her family would not be making an appearance today. Other volunteers would come later, but there would be a shortage of walkers and drivers. Everyone was going to have to put in that little extra.
She continued with her announcements about how to greet people at the door, how to handle any cash donations and a myriad of other important details. Then came the big shock of the day.
After fourteen years, starting from the basement of her parent's home and growing larger every year, it was announced that Jocelyne would no longer be organizing future food drives. I was not expecting this at all. Of course, one cannot go on forever, but after raising an estimated $140,000 in food and cash over the years, it seemed a shame to hear she could no longer continue with the organizing due to the demands of her real estate business and her family.
How much more pleasant it would have been if the announcement was because there was no longer a need. But somehow, a temporary measure to combat the poverty and hunger in our community and that of so many other Canadian cities had become institutionalized. The need never went away.
Nor did Jocelyne and her supportive immediate and extended family. After the warm and enthusiastic applause of thanks and appreciation subsided, Jocelyne continued about her duties, matching up drivers and walkers and sending us on our way.
Linda got a route map and we were introduced to Doug, who would be working with us. (We would later marvel at the energy exhibited by this man. As soon as we returned to the church hall with our load of food, he was behind the tables sorting and storing the food. An instant later, he was up the stairs and out the door to assist in the unloading of another vehicle. He told us he would stay to the end of the food drive to ensure the hall was clear and clean.)
Despite the frosty air, the three of us worked through our assigned route on Chatelaine and Raven quite quickly. We were back at the church hall unloading our food donations in about ninety minutes. We joined several others in warming ourselves and getting some nourishment from the ample food supplied - pea or vegetable soup, crackers, baked beans, rolls, cookies, hot and cold drinks. All accompanied by friendly and attentive servers who made you feel special and appreciated for the effort you gave. I was particularly pleased, as a former leader, to see some uniformed youth members of Scouts Canada pitching in.
Hearing from Jocelyne that some routes had not been covered yet, and despite feeling a bit fatigued, Linda and I set out with Doug and a new companion, Maurice, to do a few streets in Central Park. What the heck, just another while until we had the car trunk filled with food again. By now the sun had warmed the air and it was actually quite pleasant to stand on sunny porches while waiting for the door to be answered.
Its not work, really. Volunteering for the food drive is not really work. It is a mix of the satisfaction which comes from helping the less fortunate, the comradery of meeting community members and renewing acquaintances from past food drives, and the buoyed spirit which comes from doing something good. Let me share with you some of the experiences we had during the day.
The most wonderful people are those who are waiting for your arrival at the door. They have remembered the food drive and there is a bag of groceries, clothing or other items at hand when you call.
There are others who are almost embarrassed at having forgotten as they scurry off to raid their cupboards. Hardly anyone donates a single item, most often it is three or four cans or packages. This helps to make up for the many doors which go unanswered or the few which cannot support the drive.
Linda had a pleasant encounter with a resident of Celebration Street in Central Park. When Linda spoke to the resident she was taken aback, unprepared for the food drive. Linda gave her a flyer with the list of drop-off locations and departed for the next door. Some time later, as Linda was moving our car, a car pulled up behind her driven by the Celebration Street resident. The lady had gathered up some items, jumped in her car and drove around to find Linda. She explained that she did not know where to find the drop-off locations and decided she had better track us down right away. Bless her!
I chatted with another gentlemen chopping wood in his parents' back yard. The freezing rain earlier in the week had brought down a huge tree. We talked amiably about the Herculean effort he faced splitting the wood, but he was cheery and energized.
On a couple of occasions homeowners apologized for not having anything to donate, the shopping having not yet been done, only to appear behind me a few minutes later with cans and boxes of food. It sure is a boost when people make such a sincere effort to help.
I recall a young lady and her Great Dane dog - yet just a puppy she said as it brushed against my waist. After placing her donations in my shopping bag, we 'puppy' as it romped through the neighbours' yards. I was moved to assist as she undertook the chase dressed only in a top, shorts and without shoes.
On one section of Trump Avenue my teammates wondered what had happened to me. I had disappeared for a long time. Nothing to fear. I was enjoying the warmth of one home while its owner rummaged through cupboards in the kitchen. She kept assuring me she would be back to the doorway shortly. Her donation consisted of three armloads of food. I thanked her for her generosity, but she returned the thanks my way.
"It's a great way to get rid of stuff I don't want. Some of the items were experiments which I did not like. Other canned goods were bought for me and I just do not like the food. You are doing me a favour." I assured her that someone who was hungry would be most appreciative of her help.
And so it went. Warm welcomes. Smiles. Even a Merry Christmas or two.
But what echoes in my ears, and rests gently and pleasantly in my heart, are the words of a fine gentleman in Central Park who said, "You're doing a good thing. Thank you."
To his thanks, I add my own, to Jocelyne and her crew of helpers. They make helping out such an easy thing to do.
---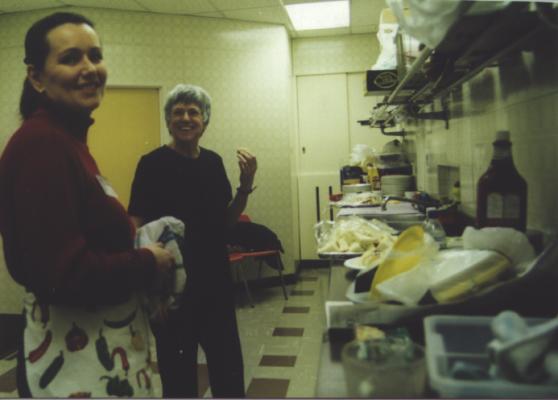 "Kitchen Catering Crew" Monique Hunton and Patricia Nesrallah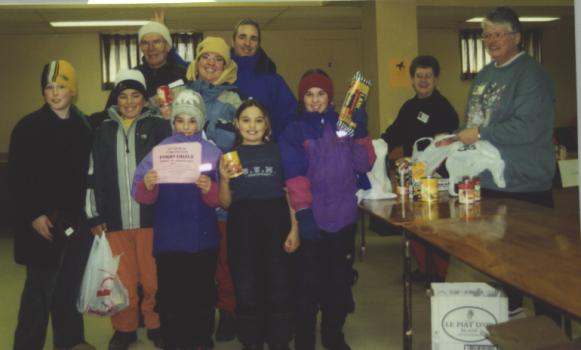 The crew of volunteers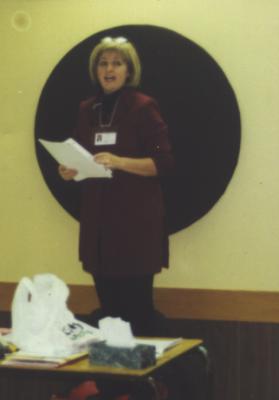 The Organizer Supeme