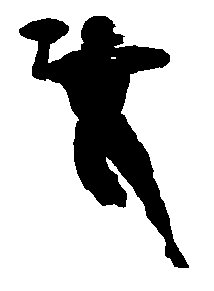 Many Bel-Air players go on to play Midget football with the Norsemen. This age group includes 17-19 year-olds, and they practise on Wavell Ave in McKellar Park.
After many years of struggling, the Norsemen had a competitive 1999 season, and then went 10-0 in the 2000 regular season. Two play-off victories completed an undefeated season and gave the Norsemen the championship.
Long time Bel-Air player Joe Costanzo was MVP of the championship game. Joe still plays his heart out, and is a bruising running back with the Norsemen.
Other Bel-Air grads on the Norsemen include Scott Bell, Norman Reid, Tenroy Reid, Chris McCorkell, Renford Thomas, Aundre Grant and Ali Abbas. Grant and Craig Morden are members of the coaching staff.
Congratulations to President Doug Peters, Head Coach Gary Bond and all of the coaches and players of the Norsemen.