When you hear the words "Winter Camp", you may envision sleeping outside in a shelter and being cold most of the time. However, when the Guides when camping on December 7-9, that wasn't exactly what happened. You see, the girls had most of the comforts of home - indoor plumbing, heated building and kitchen. However, this weekend was a chance for outdoor activities and to spend time with friends.
A little bit of snow on the ground provided the necessary atmosphere for the winter camp. We went on nature walks, played a variety of outdoor games and participated in other outdoor activities such as roasting marshmallows. When we weren't busy exploring outside, the girls were inside working on a variety of crafts including their most favorite - plastic canvas. Of course, they also had the opportunity to work in the kitchen to help prepare food for each meal. The sound of laughter frequently filled the building as they enjoyed their weekend away from home.
---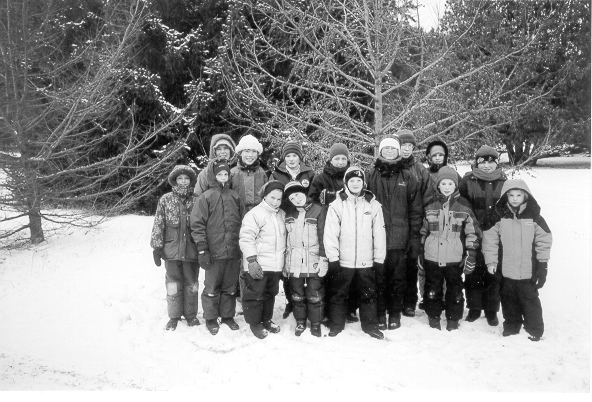 Winter Camp: Back row: Linda Darwin, Tasha Tremblay, Erin Renwick, Jessica LaRocque, Lesya Nakoneczny, Angela Darwin, Beverly Clunis, Tara Kelly. Front row: Jessica Ditz-Mathewson, Annie Chinneck, Carley Saab, Christina Leroux, Kelly O'Connell, Annie Thomas, Jennifer Nicota.
Guide Enrollment Ceremony: Annie Thomas, Carley Saab, Christina Leroux, Kelly O'Connell.