(OTTAWA) Vowing to keep Ottawa the best city in which to live in Canada, Bob Chiarelli, the first Mayor of the new City of Ottawa and 21 City Councillors were sworn in during a one-hour ceremony at the National Arts Centre on Jan. 7.
All but one of the new members are familiar faces in the local political scene, having served on the council of the former Region of Ottawa-Carleton or one of its 11 municipalities amalgamated to create the City of Ottawa on Jan. 1 this year.
The new city, boasting 785,000 residents spread over more than 2,750 km2, is now Canada's third-largest municipality in terms of area.
Ottawa Mayor Bob Chiarelli, the former longtime Ottawa West MPP and most recent Regional Chair, pledged that the new council will work hard to preserve and enhance residents' quality of life, as well as the community's rich heritage and history. "The Ottawa I come from, the Ottawa I see today and the Ottawa I believe in for tomorrow, I would not trade for any other place, anywhere, anytime," he told an almost full house in the NAC theatre after receiving his chain of office.
Mr. Chiarelli also thanked and said goodbye to the former municipalities. "You will all continue to beat in the heart of our new city."
Councillors will be very busy this year, Mr. Chiarelli said. "Number one priority is to reassure the public that service levels will continue," he said in an interview, adding that they hope to draw up a first budget in the next three months and revise the Official Plan by the end of the year.
Mr. Chiarelli said there was no top issue that the city will be dealing with this year, such as transportation or urban growth. "We have to be able to walk and chew gum at the same time. We have to deal with a number of priorities," he said. "We don't have the luxury of working on some of these consecutively, we've got to work on them at the same time."
Among the councillors to be sworn in was Wendy Stewart, the representative for the new Ward 16 (River). She is a two-term former regional councillor.
---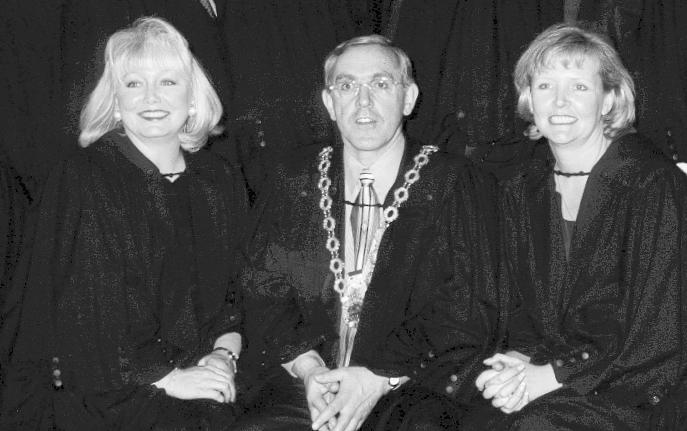 Ward 16 councilor Wendy Stewart and Major Charelli of the new council of the new city of Ottawa.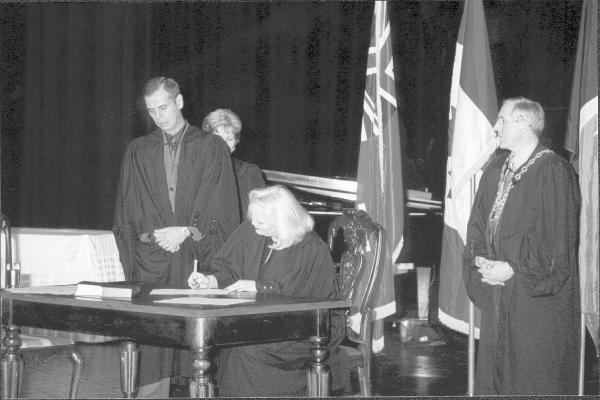 Councilor Stewart is swarn as city of Ottawa councillor