As the year 2001 gets underway, we at the Caldwell Family Centre would like to thank the people who help our Centre in many ways. For your information we like to keep you up to date on the current programs of the Family Centre.
DROP-IN/DAY-PROGRAM
is open from Monday to Friday from 8:30 a.m. to 12:00 (noon) and from 1:00 to 4:00 p.m. We also open two evenings: Monday and Thursday from 6:30 to 8:30 (winter hours) and 7:00 to 9:00 (summer hours)
People come to the Centre to socialize, watch t.v., play cards and/or board games, use the library, read newspapers etc. They also come to enjoy a daily breakfast; a special breakfast is served once a month. Once a month we also have a special lunch-BBQ in the summer. On February 21, we will have a special lunch of soup and submarine sandwiches along with desserts.
The Centre organizes a variety of outings for those interested in taking part—the most recent was a visit to the ice sculptures and a walk on the canal. The next, hopefully, will be to the sugar bush, weather permitting. The events are announced on the local bulletin board so that everyone can be informed well in advance.
COMPUTER CLASSES
rotate from morning to afternoon: 9:00 to 11:00 and 1:00 to 3:00.
We offer the basic course for a period of 20 hours. The next morning class will begin on February 19. Please call Lorena at 728-1268 for information and to have your name on the list.
Computer classes are also offered one evening a week, on Thursday from 6:30 to 8:30. For information or to have your name on the list, please contact Lorena at 728-1268.
SEWING CLASSES
are offered Tuesday, Wednesday and Thursday from 12:00 (noon) to 3:00 p.m. and Friday morning from 8:30 to 11:30.
CRAFT CLASSES
take place every Monday from 1:00 to 3:00 p.m.
The FOOD BANK
is open Tuesday to Friday inclusively from 9:00 to 12:00 (noon) and from 1:00 to 4:00. The food bank is closed on Monday because of deliveries.
ESL
(English as a Second Language) CLASSES run from Monday to Thursday from 8:30 to 11:30. There are three different levels offered in the morning classes. One afternoon class runs from Monday to Thursday from 12:00 to 3:00 p.m. For information and/or registration please contact Carol Eley at 724-6052.
CHILD MINDING
is offered to the morning classes only as a service for parents registered in the classes.
HOMEWORK HELP
for young people from grades 3 to 6 is offered on Tuesday Wednesday and Thursday from 3:30 to 4:45. This program extends to the end of April.
CITIZENSHIP CLASSES
are organized whenever needed and when numbers warrant group teaching. Contact Carole Eley at 724-6052.
PILOT PROJECT
Conversation English for the elderly new Canadians who need spoken English to get by. Contact Carole Eley at 724-6052
Thank you all for your support.
---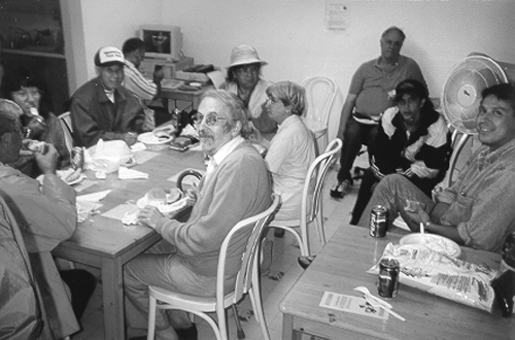 A group enjoying lunch at the Drop-in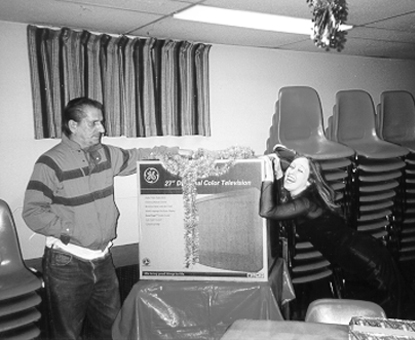 Ron Shaver, proud winner of a great door prize at the Christmas Party. No way can Edith (staff) take it away from him!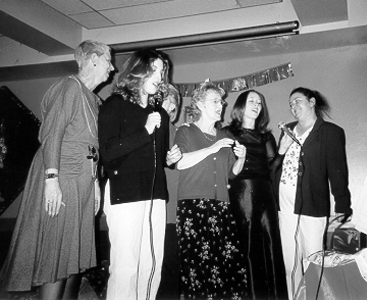 Karaoke singers at our Christmas Party, left to right Maria, Tanya, Diane, Helen, Edith, Gisèle