Donations welcome
The snow may still be falling, but the gardeners at Carlington Community Garden are busy planning for a successful 2001 gardening season.
Gardeners have stayed involved throughout the winter. About 15 gardeners have volunteered their time to help with several fundraising lunches, and the Garden Steering Committee has continued to meet and discuss plans for the upcoming season.
We will need more garden tools of various kinds and would be happy to accept any tools or equipment you would like to donate. Smaller items, such as hand tools, spades, shovels, and hoses are always welcome. We can also use some kinds of larger equipment, such as a rototiller, mulcher, or shredder. Please call Diane Kampen, the Garden Coordinator, at 722-4000, ext. 265, if you have questions or items to donate.
The Carlington Community Garden has 150 plots and 120 active gardeners. We are a cool, green oasis where gardeners can enjoy both the fruits of their labour as well as fun and friendship with other gardeners from a wide variety of backgrounds. We invite community members to share in the many benefits of a community garden.
---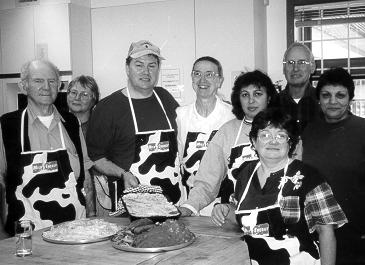 Kitchen Crew (from left to right): Bevis Thompson, Charlene Samson, Mike Soulière, Eileen Steil, Jamal Haider, Katie Mailly, John Brossard, Maymoune Dwaydar. With falafel fixings and a pan of Shepherd's pie.