Two students from W.E. Gowling Public School on Anna Avenue were the proud recipients of certificates and cheques from the Royal Canadian Legion, Montgomery Branch, at a ceremony held on 28 January.
Tasha Tremblay and John Touch were each winners in their categories of a national literary competition (poetry, essay and graphic) seeking submissions that show recognition for Remembrance Day, November 11th.
Tasha Tremblay won first place at both the Branch and Zone Levels for her poster in black and white, moving on to the District competition.
John Touch was recognized for his colour poster, and was also successful at the Branch and Zone levels.
Spokesperson Barb Strathon of the Montgomery Branch advises that the Legion has produced a Teacher's Guide which is available free to schools, in order to promote and support activities that increase awareness of the role that Canadian Veterans and their families played in the shaping of Canada. Ms. Strathon spoke passionately about the importance of young people being aware: her grandfather was a veteran of WW I and her father served in WW2.
---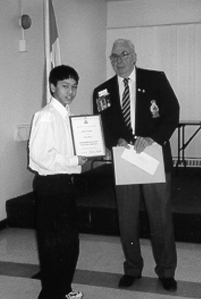 Tasha Tremblay and John Touch receive their certificates from the Royal Canadian Legion, Montgomery Branch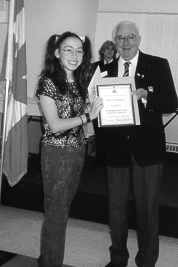 Tasha Tremblay and John Touch receive their certificates from the Royal Canadian Legion, Montgomery Branch