In case you thought you'd have some free time on your calendar this spring, the Central Park Social Committee may make it disappear faster than the snow melted away this month.
Starting in May, the Social Committee is planing another plant exchange to follow up the successful, if somewhat cold, fall event. Also on the slate is another garden talk and perhaps even a garden walking tour and census of local plant life.
In June, plans are afoot for the 3rd annual community garage sale which promises to be bigger and better than ever. Tentative date is the June 9/10 weekend. It will be followed by a BBQ for the residents that has become a tradition.
There are also thoughts of organizing a first aid course and a softball team.
If you would like to help out with any of these events or have some great ideas for new events, contact Simon Glance at social@central-park.ottawa.on.ca.
Christmas Light Contest Winners
A very busy year 2000 for the Social Committee was capped off with the "2nd Annual Christmas Light Contest" on December 10th. Many home owners around the Central Park neighbourhood went all out and created both creative and fun light decorations for their houses.
During the early evening of December 10th, over 65 residents came out to vote for their favourite house. The ballot station was set up in a garage on Trump, fully outfitted with Santas, poinsettias, Christmas tunes and hot apple cider!
The CPCG is very grateful to their sponsors who provided some very nice prizes.
Winners for Best House
1st: 42 Crystal Park Cr. - $100 gift certificate at Bella's Italian Bistro (Ashcroft)
2nd: 15 Festive Priv. - $25 Lone Star Restaurant
3rd: 69 Whitestone Dr. - golf umbrella (Waste Recycling)
4th: 51 Whitestone Dr. - chocolate
4th: 31 Crystal Park Cr. - chocolate
Draw prizes for voting
Matt Ellis - $100 gift certificate at Bella's Italian Bistro (Ashcroft)
Henry Ruszala - $20 gift certificate at Big Daddy's Crab Shack
Phil Dench - HMV CD wallet
---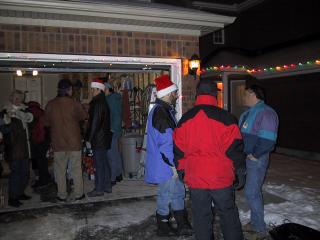 Central Park residents gather on Trump Avenue to drink some hot apple cider before voting for their favourite house.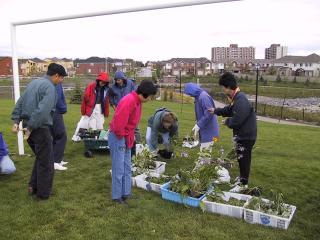 Central Park residents brave the snippy September weather to exchange car loads of plants... everything from perennial herbs and irises to shrubs and evergreens.