When H.J. McClemens began volunteering for the Carlington Summit it was only supposed to last a couple of months - that was 18 years ago.
Clem joined the community newspaper when it was initiated back in 1983 to help with the design and placement of advertisements. His experience with the Department of National Defence's Mapping and Charting Establishment as a draftsman/Graphic Artist now totalling 36 years, has given him the layout know-how.
Technology advancements have changed the way Clem does his job as the Carlington Summit's layout editor. Desktop publishing has replaced the typewriter and the cut and paste method.
"It takes me 15 minutes to create an ad, before it used to take a whole evening," says Clem. It used to take a team of eight people two nights to put together an issue. Clem can now do it in a matter of days.
Besides his layout duties, Clem, who is self-described as the "world's worst typist" is the author of the paper's monthly column, "Clem's Corner." At times, his column's humouristic approach has had more of an impact than complaining to City Hall, he says.
"One time my column got Anna Avenue paved. I put in a fictitious story about a guy walking by a bunch of kids in the back of a pickup truck. He said, 'That's a mess of kids you've got there,' and the man said, 'Yeah, but I had two more before I turned onto Anna.' The alderman at the time said, 'What's this all about?' and went out and drove down Anna and got back and put the paving of Anna almost at the top of the list. There is some kind of power of the press."
Clem, a Carlington resident for the past 30 years, says there's a need for community newspapers, for "unless it is death or mayhem, you never see it in the mainstream papers."
When asked about the advantages of volunteering for the Carlington Summit, Clem says, "What started as a learning tool has now turned into a hobby."
---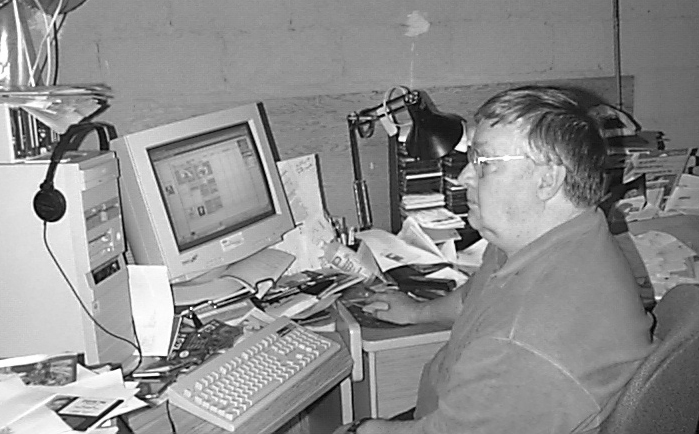 Clem has to share the earphones to the CD with the computer. He says it has a better ear for music.