Alexander Community Association has had a very busy year, with Dance Competitions, Community Events, Parades, Festivals, Walk-a-thon, Rehearsals and Recitals ... and much more. We have expanded the Dance programme to several locations this year: Pinecrest, Fisher and Delude. We are already looking for more space availability for session.
When Nancy Denny first heard about the Alexander Dance Programme, her daughter was 3 years old and it was called the Rose Buds with approximately 60 students. As time went on the programme was renamed "Silver Slippers" with approx 90 students, and was then renamed "Dance Alliance" with more than 250 students and over 12 instructors and running programs in 4 locations.
It has been an experience that she has enjoyed: Nancy has 3 girls in the Dance programme, all competing for the first time this year: Vanessa, Chelsea and Emma-lee have enjoyed meeting the many friends and instructors, and have learned to express themselves through dance and gaining dance experience, and being able to compete at all levels.
Nancy has volunteered for the past 7 years as President of the Alexander Community Association, not only running the Dance programme, but also taking care of the ice rink, Alexander Park issues, continuing to stay in touch with community issues such as the Carlington Community Police Centre, zoning and Carlington Community Resource Center events.
This year Dance Alliance participated in the Footloose Competition in Hull in April, winning many Trophies and medals. This was a new adventure for Dance Alliance and with all the girls having done so well and enjoying this event, we look forward to entering again next year.
Dance Alliance also participated in the Spring Festival in Gatineau, winning all 1st Place Trophies in every event!! Way to go Girls!!!!
In May they went on to the North American Talent Tour Competition in both Hull and Ottawa, performing at the Museum of Civilization and at Ridgemont High School. The girls performed excellently in all categories winning many Gold, Silver, High Silver and Platinum Awards.
Our students were chosen to perform for the annual walk-a-thon at Julian Park, across from Dow's Lake on June 10th. Talent is in abundance at Dance Alliance - when asked if they would like to perform as entertainment for this event , they did not hesitate, they just placed smiles on their faces and dance shoes on their feet, and performed for the many participants.
The students also performed in their annual Dance Recital on June the 9th. Having so many talented children, there was a need to have both an afternoon show and an evening show. Not only were the students in the Dance programme talented - we had a group of more than 25 talented parents performing as the Disco Diva's, way to go adults!!!
As we reflect on this year's experience, we must say that the Association has been very busy, and we are looking forward to an even more exciting year ahead.
A very big Thank-you to the parents who actively participated in this year's Dance Alliance program. Thank-you also to the many dedicated volunteers and students who expressed their many talents. "A VERY LARGE THANK YOU TO ALL WHO PARTICIPATED".
---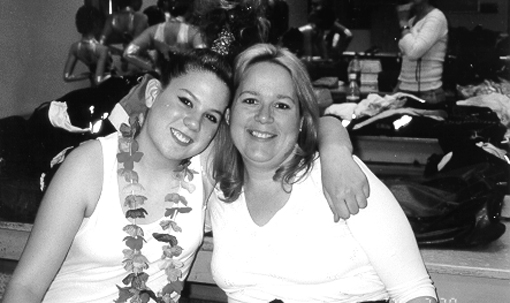 Candice Campo and Sharena Campo enjoy the North American Dance competition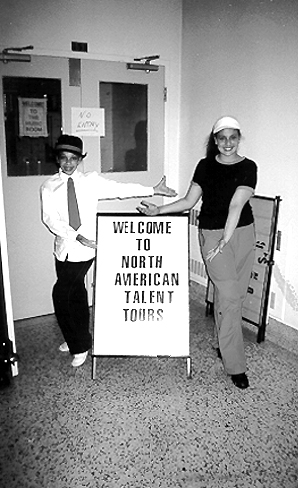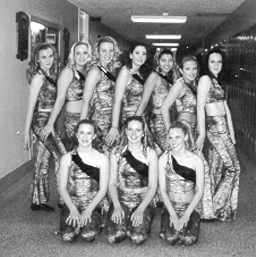 Senior Girls under direction of Natalie O'Byrne perform a High Gold Experience in "WILD" Front Row: Megan MacDonald, Terra Morris, Chantal Poirier Back Row: Jane Kearnan, Melissa Macdonald, Alicia Couse, Rachela Clarot, Anik Barbier, Tabetha Meikle Sigouin, Lauren Benn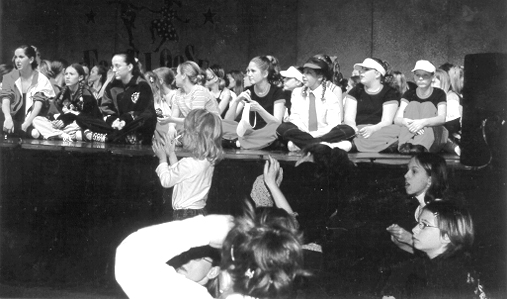 Awards at the FOOTLOOSE Competition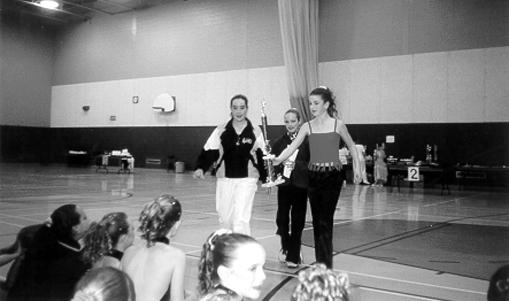 Caitlin Shand, Carmen Murphy and Michelle Thibaudeau shoing their winning trophy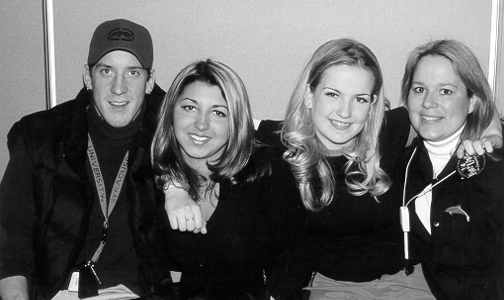 TEAM PICTURE Chris Goulet, Anik Barbier, Laura Parker (who is always smiling) and Nancy Denny - Director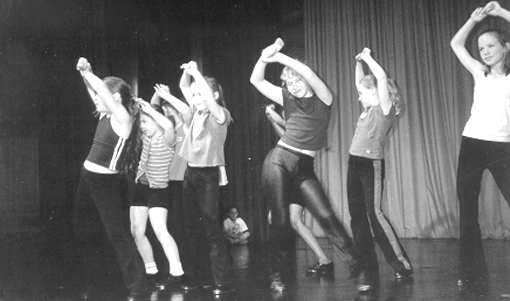 Candice front centre is ready to dance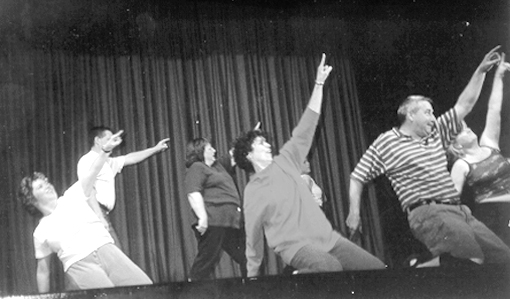 Diane, Carol and Roger show us the way!!!!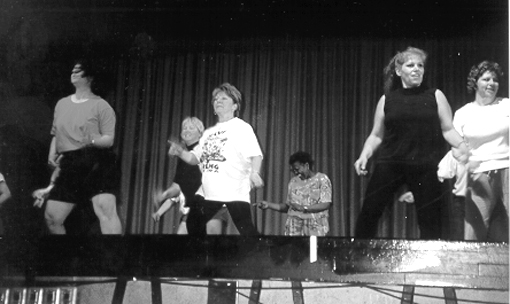 Lavergne and Micheline: Dancing Divas!