In interview with Mr. Gorman / Spring 2001
Thirty one years is long time in the life of a human being and to dedicated this time to a labour of love, passion and principles makes Mr. Gorman a hero to all who know him.
This is Mr. Gorman's final year in the teaching profession and it ends an outstanding career which began 31 years ago at Our Lady of Fatima.
He taught grade 5 and 6 for one year and then moved to St. Joe's Intermediate where he remained for the major part of his career. St. Joe's and St. Ray's joined to form Notre Dame and he has been here ever since.
Teaching was his first career choice an throughout all of his years as a teacher to us all, he has had no regrets whatsoever. The idea of becoming a teacher was recommended to him in university by his Geography teacher, "I just kind of fell into the profession," Mr. Gorman said with a smile.
The best part of his career was organizing and participating in the many Leadership Camps which I was lucky enough to accompany him on one of them. He said he enjoys playing music and playing his guitar with other students. The worst part of his career, he said was dealing with all of the political bureaucracy and all of the issues associated with Mike Harris, but he did not wish to comment further.
Mr. Gorman will miss all of the contact with the students here at Notre Dame, especially his involvement with his Leadership Camps and the trips, so will we all.
How does he feel about the many changes to the education system? We will never know the answer to this question, because he did not wish to talk about it, but left us with a hint of his feelings. First he said, "there is too much emphasis on education for employment rather than living and learning. Too much emphasis and kids to get jobs and not to make them better people!" Finally he said :we have too much reliance on new technologies, too much, too fast. I am not sure that, from an evolutionary standpoint, (biologically), humans are prepared to deal with the stress that comes with these technologies."
Absolutely!, was his reply when I asked him if he enjoyed his whole teaching career. He looks forward to continuing with his music and song writing and he plans to create and produce a screenplay.
He is a talented and dedicated teacher and I'm sure he will put in the same love and passion in whatever he does as he did in teaching. I wish him luck in whatever he pursues.
---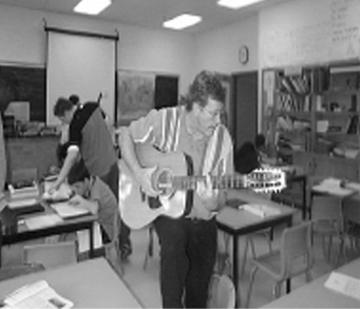 Here's Mr. Gorman doing what he loves to do, play his guitar