The Soloway Jewish Community Centre's (SJCC) Gefilte Fish Swim Club stroked their way to a second place finish at the McCann Boys and Girls Club Fun Swim Meet May 12th. Led by team MVP Brennan Pugh, the 10-member Gefilte Fish Swim Team ranging in ages from 7-12 came a close second to the host McCann team in total team points 352 to 324. "We had fewer swimmers but our kids made up the difference in team spirit and individual best times," said Coach, Zoe Shainfarber.
The meet attracted 70 pre-competitive swimmers from 5 local Boys and Girls Club centres around Ottawa as well as the SJCC team. Individual events were organized into 10 & Under, 11-12, and 13 over age categories as well as mixed fun relays. Eight-year old Allison Davis said "The sponge relay was really fun. We had to swim and fill up a bucket by squeezing a sponge."
Brothers Ian and Connor teamed up with their sister to win the event as well as the 10 & Under 20 metre backstroke and breastroke respectively. Hailey Desormeaux came second in the 10 & Under 20 metre free with team mate Mia Nussbaum first in the 20 metre breastroke. Brothers Kenton and Trevor Anzai finished second and first in the 10 & Under 20 metre backstroke and 20 metre breastroke respectively.
The 11-12 year-old category was well represented by Tessa McNicol who won the 40 metre backstroke and 40 metre free. Dillon Cooke took top honours by winning the 20 metre and 40 metre breaststroke as well as the underwater swim going a record-breaking 25 metres. MVP Brennan Pugh posted top times by winning the 20 metre free, 40 metre free, and 40 metre backstroke.
The SJCC Gefilte Fish Swim Club is hosting the Outdoor BBQ Swim Meet Sunday, June 17th from 12-5 PM. Local pre-competitive and competitive teams are invited to the 25 event competition with awards up for grabs for 8 & Under up to 13 and over age categories. The public is invited to come out to watch the action or sit down and have a hot dog in the hopefully sunny weather.
The six-lane, 25 metre outdoor pool is located behind the main SJCC complex off Broadview and Carling Avenue.
If you would like more information about the Gefilte Fish Swim Club program (open to members and non-members), please contact Jeff Schultz at 798-9818 ext. 337 or email jschultz@jccottawa.com. The program is designed for kids 6 years and older who would like to improve their competitive strokes and endurance while participating in fun local swim meets. The next session will run from October to June or participants can sign up on a monthly pro-rated basis.
---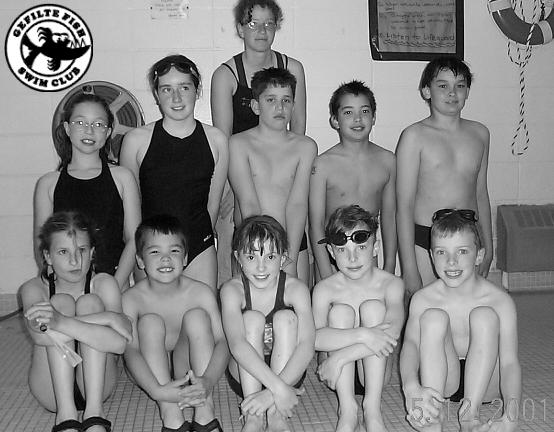 Front row l to r: Hailey Desormeaux, Kenton Anzai, Allison Davis, Connor Davis, Ian Davis; Back row l to r: Mia Nussbaum, Tessa McNicol, Dillon Cooke, Trevor Anzai, Brennan Pugh; Top: Coach Zoe Shainfarber